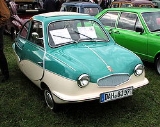 Fuldamobil
Fuldamobil
is the name of a series of small
car
Automobile
An automobile, autocar, motor car or car is a wheeled motor vehicle used for transporting passengers, which also carries its own engine or motor...
s produced by
Elektromaschinenbau Fulda GmbH
of
Fulda
Fulda
Fulda is a city in Hesse, Germany; it is located on the river Fulda and is the administrative seat of the Fulda district .- Early Middle Ages :...
,
Germany
Germany
Germany , officially the Federal Republic of Germany , is a federal parliamentary republic in Europe. The country consists of 16 states while the capital and largest city is Berlin. Germany covers an area of 357,021 km2 and has a largely temperate seasonal climate...
, and
Nordwestdeutscher Fahrzeugbau
(NWF) of
Wilhelmshaven
Wilhelmshaven
Wilhelmshaven is a coastal town in Lower Saxony, Germany. It is situated on the western side of the Jade Bight, a bay of the North Sea.-History:...
between 1950 and 1969. Though numbers produced were relatively small, the cars attracted sufficient attention to see licensed construction on four
continent
Continent
A continent is one of several very large landmasses on Earth. They are generally identified by convention rather than any strict criteria, with seven regions commonly regarded as continents—they are : Asia, Africa, North America, South America, Antarctica, Europe, and Australia.Plate tectonics is...
s including Europe. In its ultimate configuration it is said to have inspired the term "
bubble car
Bubble car
Bubble car is a subjective term used for some small, economical automobiles, usually produced in the 1950s and 1960s.- Varieties :The Messerschmitt KR175 and KR200, and the FMR Tg500, had aircraft-style bubble canopies, giving rise to the term bubble car to refer to all these post-war microcars...
".
Origins
The cars original design was conceived by Norbert Stevenson, a freelance-journalist who had worked for the "Rhein-Zeitung" newspaper who had completed one term of
mechanical engineering
Mechanical engineering
Mechanical engineering is a discipline of engineering that applies the principles of physics and materials science for analysis, design, manufacturing, and maintenance of mechanical systems. It is the branch of engineering that involves the production and usage of heat and mechanical power for the...
at the
Technische Hochschule
Technical University of Berlin
The Technische Universität Berlin is a research university located in Berlin, Germany. Translating the name into English is discouraged by the university, however paraphrasing as Berlin Institute of Technology is recommended by the university if necessary .The TU Berlin was founded...
Berlin
Berlin
Berlin is the capital city of Germany and is one of the 16 states of Germany. With a population of 3.45 million people, Berlin is Germany's largest city. It is the second most populous city proper and the seventh most populous urban area in the European Union...
. His design concept was for a very simple three wheeled car with room for two people inside, it would have two wheels at the front for stability, and be driven by a small engine at the rear. After initial financial support for the project from his former employer had ceased, Stevenson took his concept to several companies and in the summer of 1949, it was accepted by Karl Schmitt, a wealthy engineering graduate.
Schmitt was a
Bosch
Robert Bosch GmbH
Robert Bosch GmbH is a multinational engineering and electronics company headquartered in Gerlingen, near Stuttgart, Germany. It is the world's largest supplier of automotive components...
wholesale
Wholesale
Wholesaling, jobbing, or distributing is defined as the sale of goods or merchandise to retailers, to industrial, commercial, institutional, or other professional business users, or to other wholesalers and related subordinated services...
r in the town of Fulda, Germany, who also ran another small company;
Elektromaschinenbau Fulda GmbH
, which had proved successful providing maintenance and repair of the emergency power generators in widespread use in Germany after the war.
The Fuldamobil was licensed for manufacture to various countries where it was known by varying names, such as the Nobel in Chile and the UK, the Bambi in Argentina, the Bambino in the Netherlands, Fram King Fulda in Sweden,
Attica
Attica (automobiles)
Attica was a brand name of vehicles produced by Bioplastic S.A., a company created in Moschato, Athens by Georgios Dimitriadis, a figure in Greek automotive history....
and also
Alta
Alta (vehicles)
Alta was a Greek manufacturer of light and heavier three-wheeler trucks, motorcycles and passenger cars. Production of motorcycles and three-wheeler trucks with Sachs 50cc engines started in its first factory in Athens in 1962. The 50S motorcycle model was known for its reliability...
in Greece, and Hans Vahaar in India. It was also manufactured in South Africa under the original German name. A pickup version called "Sporty" based on the coupé was also available in Argentina.