 Fukui University of Technology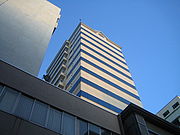 The is a private university founded in 1950 and located in
Fukui
Fukui, Fukui
is the capital of Fukui Prefecture, Japan. The city is located in the north-central part of the prefecture on the coast of the Sea of Japan.-Demographics:...
,
Fukui Prefecture
Fukui Prefecture
is a prefecture of Japan located in the Chūbu region on Honshū island. The capital is the city of Fukui.- Prehistory :The Kitadani Dinosaur Quarry, on the Sugiyama River within the city limits of Katsuyama, has yielded the Fukuiraptor kitadaniensis and Fukuisaurus tetoriensis as well as an unnamed...
,
Japan
Japan
Japan is an island nation in East Asia. Located in the Pacific Ocean, it lies to the east of the Sea of Japan, China, North Korea, South Korea and Russia, stretching from the Sea of Okhotsk in the north to the East China Sea and Taiwan in the south...
.
External links