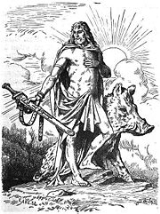 Freyr
"Frey" redirects here. For other uses of Frey and Freyr, see Frey (disambiguation)

Frey (disambiguation)

-Other uses:*Frey , a Swiss manufacturer of chocolate since 1887*Frei zu leben, a German entry in the Eurovision Song Contest 1990*FreiTek, Inc., a fictional company in Star Wars.*Frey's procedure, a treatment for chronic pancreatitis...


.
Freyr (sometimes anglicized Frey, from *
frawjaz
"lord") is one of the most important gods of
Norse paganism
Norse paganism
Norse paganism is the religious traditions of the Norsemen, a Germanic people living in the Nordic countries. Norse paganism is therefore a subset of Germanic paganism, which was practiced in the lands inhabited by the Germanic tribes across most of Northern and Central Europe in the Viking Age...
. Freyr was highly associated with farming, weather and, as a
phallic
Phallus
A phallus is an erect penis, a penis-shaped object such as a dildo, or a mimetic image of an erect penis. Any object that symbolically resembles a penis may also be referred to as a phallus; however, such objects are more often referred to as being phallic...
fertility god, Freyr "bestows peace and pleasure on mortals". Freyr, sometimes referred to as
Yngvi
Yngvi
Yngvi, Yngvin, Ingwine, Inguin are names that relate to an older theonym Ing and which appears to have been the older name for the god Freyr ....
-Freyr, was especially associated with Sweden and seen as an ancestor of the Swedish royal house.
In the
Iceland
Iceland
Iceland , described as the Republic of Iceland, is a Nordic and European island country in the North Atlantic Ocean, on the Mid-Atlantic Ridge. Iceland also refers to the main island of the country, which contains almost all the population and almost all the land area. The country has a population...
ic books the
Poetic Edda
Poetic Edda
The Poetic Edda is a collection of Old Norse poems primarily preserved in the Icelandic mediaeval manuscript Codex Regius. Along with Snorri Sturluson's Prose Edda, the Poetic Edda is the most important extant source on Norse mythology and Germanic heroic legends, and from the early 19th century...
and the
Prose Edda
Prose Edda
The Prose Edda, also known as the Younger Edda, Snorri's Edda or simply Edda, is an Icelandic collection of four sections interspersed with excerpts from earlier skaldic and Eddic poetry containing tales from Nordic mythology...
, Freyr is presented as one of the
Vanir
Vanir
In Norse mythology, the Vanir are a group of gods associated with fertility, wisdom and the ability to see the future. The Vanir are one of two groups of gods and are the namesake of the location Vanaheimr . After the Æsir–Vanir War, the Vanir became a subgroup of the Æsir...
, the son of the sea god Njörðr, brother of the goddess Freyja.