 French villages destroyed in the First World War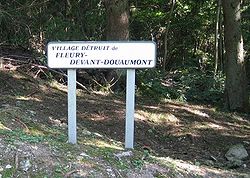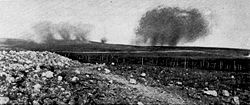 During the
First World War
World War I
World War I , which was predominantly called the World War or the Great War from its occurrence until 1939, and the First World War or World War I thereafter, was a major war centred in Europe that began on 28 July 1914 and lasted until 11 November 1918...
, specifically at the time of the
Battle of Verdun
Battle of Verdun
The Battle of Verdun was one of the major battles during the First World War on the Western Front. It was fought between the German and French armies, from 21 February – 18 December 1916, on hilly terrain north of the city of Verdun-sur-Meuse in north-eastern France...
in 1916, many villages in the
French
France
The French Republic , The French Republic , The French Republic , (commonly known as France , is a unitary semi-presidential republic in Western Europe with several overseas territories and islands located on other continents and in the Indian, Pacific, and Atlantic oceans. Metropolitan France...
département
of
Meuse
Meuse
Meuse is a department in northeast France, named after the River Meuse.-History:Meuse is one of the original 83 departments created during the French Revolution on March 4, 1790...
were destroyed by the fighting. After the war, it was decided that the land previously occupied by the destroyed villages would not be incorporated into other communes, as a testament to these villages which had "died for France", as they were declared, and to preserve their memory. While three of the villages were subsequently rebuilt and are governed as normal communes, the other six are entirely unpopulated and are managed by a council of three members, appointed by the
prefect
Préfet
A prefect in France is the State's representative in a department or region. Sub-prefects are responsible for the subdivisions of departments, arrondissements...
of Meuse.
List of villages
See also
Zone rouge (First World War)

Zone rouge (First World War)

The Zone rouge is the name given to about of land in northeastern France that was physically and environmentally destroyed during the First World War...



No man's land

No man's land

No man's land is a term for land that is unoccupied or is under dispute between parties that leave it unoccupied due to fear or uncertainty. The term was originally used to define a contested territory or a dumping ground for refuse between fiefdoms...


, the area between the lines during the First World War
Oradour-sur-Glane

Oradour-sur-Glane

Oradour-sur-Glane is a commune in the Haute-Vienne department in the Limousin region in west-central France.The original village was destroyed on 10 June 1944, when 642 of its inhabitants, including women and children, were massacred by a German Waffen-SS company...


, a village in Limousin

Limousin (région)

Limousin is one of the 27 regions of France. It is composed of three départements: Corrèze, Creuse and the Haute-Vienne.Situated largely in the Massif Central, as of January 1st 2008, the Limousin comprised 740,743 inhabitants on nearly 17 000 km2, making it the second least populated region of...


destroyed in the Second World War

World War II

World War II, or the Second World War , was a global conflict lasting from 1939 to 1945, involving most of the world's nations—including all of the great powers—eventually forming two opposing military alliances: the Allies and the Axis...


and later rebuilt nearby
External links