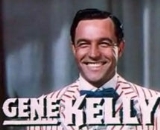 Gene Kelly
Eugene Curran "Gene" Kelly (August 23, 1912 February 2, 1996) was an American dancer, actor, singer, film director and producer, and choreographer. Kelly was known for his energetic and athletic dancing style, his good looks and the likeable characters that he played on screen.
Although he is known today for his performances in
Singin' in the Rain
Singin' in the Rain
Singin' in the Rain is a 1952 American comedy musical film starring Gene Kelly, Donald O'Connor and Debbie Reynolds and directed by Gene Kelly and Stanley Donen, with Kelly also providing the choreography...
and
An American in Paris
An American in Paris (film)
An American in Paris is a 1951 MGM musical film inspired by the 1928 orchestral composition by George Gershwin. Starring Gene Kelly, Leslie Caron, Oscar Levant, Georges Guetary, and Nina Foch, the film is set in Paris, and was directed by Vincente Minnelli from a script by Alan Jay Lerner...
, he was a dominant force in Hollywood musical films from the mid 1940s until this art form fell out of fashion in the late 1950s.
At 14, I discovered girls. At that time, dancing was the only way you could put your arm around the girl. Dancing was courtship. Only later did I discover that you dance joy. You dance love. You dance dreams.

I didn't want to be a dancer... I just did it to work my way through college. But I was always an athlete and gymnast, so it came naturally.

I [was] twenty pounds overweight and as strong as an ox. But if I put on a white tails and tux like Astaire, I still looked like a truck driver... I looked better in a sweatshirt and loafers anyway. It wasn't elegant, but it was me.

I wasn't very nice to Debbie. It's a wonder she still speaks to me.

On his behavior towards Debbie Reynolds|Debbie Reynolds on the set of Singin' in the Rain.
If Fred Astaire is the Cary Grant of dance, I'm the Marlon Brando.

In the 1930s, when I started, Martha Graham|Martha Graham was the only dancer doing anything modern, but she did it all to classical music. I couldn't see myself doing Swan Lake every night, and I wanted to develop a truly American style. The only dancer in the movies at that time with any success was Fred Astaire, but he did very small, elegant steps in a top hat, white tie, and tails.

The way I look at a musical, you are commenting on the human condition no matter what you do. A musical may be light and frivolous, but by its very nature, it makes some kind of social comment.