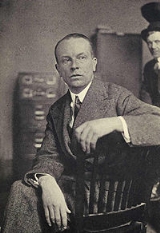 Franz von Rintelen
Captain
Franz Dagobert Johannes von Rintelen
(1877 – May 30, 1949) was a German Naval Intelligence officer in the
United States
United States
The United States of America is a federal constitutional republic comprising fifty states and a federal district...
during
World War I
World War I
World War I , which was predominantly called the World War or the Great War from its occurrence until 1939, and the First World War or World War I thereafter, was a major war centred in Europe that began on 28 July 1914 and lasted until 11 November 1918...
.
He came from a banking family with good connections in American banking, having served with
Deutsche Bank
Deutsche Bank
Deutsche Bank AG is a global financial service company with its headquarters in Frankfurt, Germany. It employs more than 100,000 people in over 70 countries, and has a large presence in Europe, the Americas, Asia Pacific and the emerging markets...
as well as acting as U.S. representative for
Disconto Gesellschaft
, then Germany's number two bank, beginning in 1906. He also spoke excellent English.
He was sent to the still-neutral United States in 1915, at age 38, on a false Swiss passport in the name of Emil V. Gasche (the surname appropriated from his brother-in-law). Arriving 3 April, Captain von Rintelen operated independently and received his funds and instructions directly from Berlin. His mission was to sabotage American ships carrying munitions and supplies to the
Allies
Allies
In everyday English usage, allies are people, groups, or nations that have joined together in an association for mutual benefit or to achieve some common purpose, whether or not explicit agreement has been worked out between them...
. Arriving in
New York City
New York City
New York is the most populous city in the United States and the center of the New York Metropolitan Area, one of the most populous metropolitan areas in the world. New York exerts a significant impact upon global commerce, finance, media, art, fashion, research, technology, education, and...
, he posed as businessman Frederick Hansen and, with
Heinrich Albert
Heinrich Albert
Heinrich Friedrich Albert was a German lawyer who served as commercial attaché to the Imperial German Ambassador to the United States Johann Heinrich von Bernstorff during World War I. He was also the paymaster for German espionage and sabotage operations in the United States...
, set up a dummy corporation called Bridgeport Projectile, through which he purchased gunpowder, which he then destroyed. He also set up another company, the Austrian-subsidized Transatlantic Trust Company at 57 William Street in Manhattan, where he had deposited a large amount of money on his arrival from Germany. He also attempted to buy the du Pont powder factory, without success.
Von Rintelen worked with a chemist, Dr. Scheele, to develop time-delayed incendiary devices known as
pencil bomb
Pencil bomb
A pencil bomb was a type of time bomb with a timer that could be set to detonate any given time. It was designed by German chemist, Dr. Scheele and used by German spy Franz von Rintelen during World War I.-Design:...
s, which were then placed in the holds of American merchant ships to cause fires in the ships' holds so that the crew would throw the munitions overboard. Several were planted successfully.
He also organized the Labor's National Peace Council to foster strikes and work slowdowns among munitions workers to inhibit American aid to the Allies. From offices at 55 Liberty Street in New York City (around the corner from Transatlantic Trust, where he was Hansen), he spent US$500,000 doing so, most of which went to his U.S. agent,
David Lamar
David Lamar
"The Wolf of Wall Street" redirects here. for other uses of the phrase, see Wolf of Wall StreetDavid Lamar was an conman known as the "Wolf of Wall Street".-Biography:...
; known as the "Wolf of Wall Street", Lamar's reports of success were exaggerated.
During 1915, he negotiated with Victoriano Huerta for money to purchase weapons and
U-boat
U-boat
U-boat is the anglicized version of the German word U-Boot , itself an abbreviation of Unterseeboot , and refers to military submarines operated by Germany, particularly in World War I and World War II...
landings to provide support, while hoping to persuade Mexico to make war on the U.S., which Germany hoped would end munitions supplies to the Allies. Their meetings, held at the Manhattan Hotel (as well as another New York hotel, "probably the Holland House" at Fifth Avenue and 30th Street) were observed by
Secret Service
United States Secret Service
The United States Secret Service is a United States federal law enforcement agency that is part of the United States Department of Homeland Security. The sworn members are divided among the Special Agents and the Uniformed Division. Until March 1, 2003, the Service was part of the United States...
men, and von Rintelen's telephone conversations were routinely intercepted and recorded. It is probable
Room 40
Room 40
In the history of Cryptanalysis, Room 40 was the section in the Admiralty most identified with the British cryptoanalysis effort during the First World War.Room 40 was formed in October 1914, shortly after the start of the war...
, which could read at least two of the
cypher
Cypher
Not to be confused with CipherCypher may refer to:* A royal cypher or monogram-like glyph-Art and entertainment:* Cypher , a Goa trance music group* Cypher , an Australian instrumental band* Cypher , a 2002 film...
s he used, was also recording von Rintelen's activities.
His work was largely successful and probably included some part in the
Black Tom explosion
Black Tom explosion
The Black Tom explosion on July 30, 1916 in Jersey City, New Jersey was an act of sabotage on American ammunition supplies by German agents to prevent the materiel from being used by the Allies in World War I.- Black Tom Island :...
in 1916. Also in 1915 he bought ammunition and supplied money to the deposed Mexican dictator Huerta and encouraged him to try to seize back power in Mexico.
His colleagues were not all pleased with his success, and
Franz von Papen
Franz von Papen
Lieutenant-Colonel Franz Joseph Hermann Michael Maria von Papen zu Köningen was a German nobleman, Roman Catholic monarchist politician, General Staff officer, and diplomat, who served as Chancellor of Germany in 1932 and as Vice-Chancellor under Adolf Hitler in 1933–1934...
(later Chancellor of Germany) sent a telegram to
Berlin
Berlin
Berlin is the capital city of Germany and is one of the 16 states of Germany. With a population of 3.45 million people, Berlin is Germany's largest city. It is the second most populous city proper and the seventh most populous urban area in the European Union...
complaining about him. The telegram was intercepted and decrypted by Room 40. He received a telegram, ostensibly from his Admiralty (in a cypher Room 40 could read; it remains unclear if Room 40 originated it, or merely intercepted it), and sailed back to Germany 3 August on the neutral
Holland America
Holland America Line
The Holland America Line is a cruise shipping company. It was founded in 1873 as the Netherlands-America Steamship Company , a shipping and passenger line. Headquartered in Rotterdam and providing service to the Americas, it became known as Holland America Line...
liner
Noordam
. He was captured at
Southampton
Southampton
Southampton is the largest city in the county of Hampshire on the south coast of England, and is situated south-west of London and north-west of Portsmouth. Southampton is a major port and the closest city to the New Forest...
, England, and protested his innocence so convincingly, both the Swiss Minister in London and
Scotland Yard
Scotland Yard
Scotland Yard is a metonym for the headquarters of the Metropolitan Police Service of London, UK. It derives from the location of the original Metropolitan Police headquarters at 4 Whitehall Place, which had a rear entrance on a street called Great Scotland Yard. The Scotland Yard entrance became...
were persuaded. At a further meeting, the head of Room 40, Admiral
W. R. "Blinker" Hall
William Reginald Hall
Admiral Sir William Reginald Hall, KCMG, CB, RN was the British Director of Naval Intelligence from 1914 to 1919...
, was not, and von Rintelen confessed; he was imprisoned in Britain for twenty-one months, then interned in Atlanta, Georgia for three years, after the U.S. entered the war.
He returned to Germany in 1920, a forgotten man. He moved to England, where he died on May 30, 1949.
Von Rintelen wrote
The Dark Invader: War-Time Reminiscences Of A German Naval Intelligence Officer
which was published in 1933.
The scanned version of the original Penguin Books 1933 edition is available on line at Project Gutenberg Australia http://gutenberg.net.au/plusfifty-n-z.html