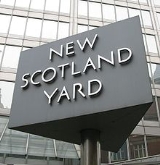 Scotland Yard
Scotland Yard
is a metonym for the headquarters of the
Metropolitan Police Service
Metropolitan Police Service
The Metropolitan Police Service is the territorial police force responsible for Greater London, excluding the "square mile" of the City of London which is the responsibility of the City of London Police...
of London, UK. It derives from the location of the original Metropolitan Police headquarters at 4 Whitehall Place, which had a rear entrance on a street called
Great Scotland Yard
Great Scotland Yard (street)
Great Scotland Yard is a street in the St. James's district of Westminster, London, connecting Northumberland Avenue and Whitehall. It is best known as the location of the rear entrance to the original headquarters of the Metropolitan Police Service of London....
. The Scotland Yard entrance became the public entrance to the police station. Over time, the street and the Metropolitan Police became synonymous. The
New York Times
wrote in 1964 that, just as
Wall Street
Wall Street
Wall Street refers to the financial district of New York City, named after and centered on the eight-block-long street running from Broadway to South Street on the East River in Lower Manhattan. Over time, the term has become a metonym for the financial markets of the United States as a whole, or...
gave its name to the New York financial world, Scotland Yard did the same for police activity in London.