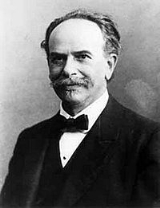 Franz Boas
Franz Boas
(ˈ; July 9, 1858 – December 21, 1942) was a
German
Germany
Germany , officially the Federal Republic of Germany , is a federal parliamentary republic in Europe. The country consists of 16 states while the capital and largest city is Berlin. Germany covers an area of 357,021 km2 and has a largely temperate seasonal climate...
-
American
United States
The United States of America is a federal constitutional republic comprising fifty states and a federal district...
anthropologist and a pioneer of modern
anthropology
Anthropology
Anthropology is the study of humanity. It has origins in the humanities, the natural sciences, and the social sciences. The term "anthropology" is from the Greek anthrōpos , "man", understood to mean mankind or humanity, and -logia , "discourse" or "study", and was first used in 1501 by German...
who has been called the "Father of American Anthropology" and "the Father of Modern Anthropology." Like many such pioneers, he trained in other disciplines; he received his doctorate in
physics
Physics
Physics is a natural science that involves the study of matter and its motion through spacetime, along with related concepts such as energy and force. More broadly, it is the general analysis of nature, conducted in order to understand how the universe behaves.Physics is one of the oldest academic...
, and did post-doctoral work in
geography
Geography
Geography is the science that studies the lands, features, inhabitants, and phenomena of Earth. A literal translation would be "to describe or write about the Earth". The first person to use the word "geography" was Eratosthenes...
. He applied the
scientific method
Scientific method
Scientific method refers to a body of techniques for investigating phenomena, acquiring new knowledge, or correcting and integrating previous knowledge. To be termed scientific, a method of inquiry must be based on gathering empirical and measurable evidence subject to specific principles of...
to the study of human cultures and societies; previously this discipline was based on the formulation of grand theories around anecdotal knowledge.
Boas once summed up his approach to anthropology and folklore by saying: "In the course of time I became convinced that a materialistic point of view, for a physicist a very real one, was untenable.
The passion for seeking the truth for truth's sake...can be kept alive only if we continue to seek the truth for truth's sake.

Introduction
The behavior of an individual is determined not by his racial affiliation, but by the character of his ancestry and his cultural environment.

Chapter 2
No one has ever proved that a human being, through his descent from a certain group of people, must of necessity have certain mental characteristics.

Chapter 7