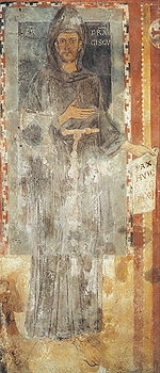 Francis of Assisi
Saint Francis of Assisi
(born Giovanni Francesco di Bernardone; 1181/1182October 3, 1226) was an
Italian
Italian people
The Italian people are an ethnic group that share a common Italian culture, ancestry and speak the Italian language as a mother tongue. Within Italy, Italians are defined by citizenship, regardless of ancestry or country of residence , and are distinguished from people...
Catholic
friar
Friar
A friar is a member of one of the mendicant orders.-Friars and monks:...
and
preacher
Preacher
Preacher is a term for someone who preaches sermons or gives homilies. A preacher is distinct from a theologian by focusing on the communication rather than the development of doctrine. Others see preaching and theology as being intertwined...
. He founded the men's
Franciscan
Franciscan
Most Franciscans are members of Roman Catholic religious orders founded by Saint Francis of Assisi. Besides Roman Catholic communities, there are also Old Catholic, Anglican, Lutheran, ecumenical and Non-denominational Franciscan communities....
Order, the women's Order of St. Clare, and the lay Third Order of Saint Francis. St. Francis is one of the most venerated religious figures in history.
Francis was the son of a wealthy cloth merchant in
Assisi
Assisi
- Churches :* The Basilica of San Francesco d'Assisi is a World Heritage Site. The Franciscan monastery, il Sacro Convento, and the lower and upper church of St Francis were begun immediately after his canonization in 1228, and completed in 1253...
, and he lived the high-spirited life typical of a wealthy young man, even fighting as a soldier for Assisi.