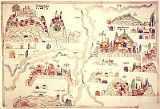 Four Holy Cities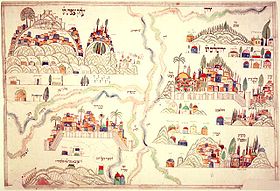 The
Four Holy Cities
, is the collective term in
Jewish
Jews
The Jews , also known as the Jewish people, are a nation and ethnoreligious group originating in the Israelites or Hebrews of the Ancient Near East. The Jewish ethnicity, nationality, and religion are strongly interrelated, as Judaism is the traditional faith of the Jewish nation...
tradition applied to the cities of
Jerusalem
,
Hebron
Hebron
Hebron , is located in the southern West Bank, south of Jerusalem. Nestled in the Judean Mountains, it lies 930 meters above sea level. It is the largest city in the West Bank and home to around 165,000 Palestinians, and over 500 Jewish settlers concentrated in and around the old quarter...
,
Tiberias
, and
Safed
Safed
Safed , is a city in the Northern District of Israel. Located at an elevation of , Safed is the highest city in the Galilee and of Israel. Due to its high elevation, Safed experiences warm summers and cold, often snowy, winters...
: "Since the sixteenth century the holiness of
Palestine
Palestine
Palestine is a conventional name, among others, used to describe the geographic region between the Mediterranean Sea and the Jordan River, and various adjoining lands....
, especially for burial, has been almost wholly transferred to four cities—Jerusalem, Hebron, Tiberias, and Safed."
See also
Temple in Jerusalem

Temple in Jerusalem

The Temple in Jerusalem or Holy Temple , refers to one of a series of structures which were historically located on the Temple Mount in the Old City of Jerusalem, the current site of the Dome of the Rock. Historically, these successive temples stood at this location and functioned as the centre of...



Yishuv haYashan
Holy of Holies

Holy of Holies

The Holy of Holies is a term in the Hebrew Bible which refers to the inner sanctuary of the Tabernacle and later the Temple in Jerusalem where the Ark of the Covenant was kept during the First Temple, which could be entered only by the High Priest on Yom Kippur...



Laws and customs of the Land of Israel in Judaism

Laws and customs of the Land of Israel in Judaism

Laws and customs of the Land of Israel in Judaism are special Jewish laws that apply only to the Land of Israel. According to a standard view, 26 of the 613 mitzvot apply only in the Land of Israel. Overall, the laws and customs may be classified as follows:...