 Forest Hills Gardens, Queens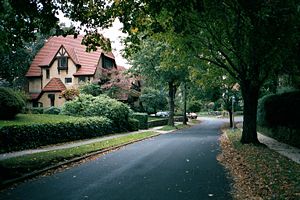 Forest Hills Gardens
is a community located in
Forest Hills
Forest Hills, Queens
Forest Hills is a neighborhood in the borough of Queens in New York City, New York, United States.-Neighborhood:The neighborhood is home to upper-middle class residents, of whom the wealthier residents often live in the neighborhood's Forest Hills Gardens area...
, in the
New York City
New York City
New York is the most populous city in the United States and the center of the New York Metropolitan Area, one of the most populous metropolitan areas in the world. New York exerts a significant impact upon global commerce, finance, media, art, fashion, research, technology, education, and...
borough
Borough (New York City)
New York City, one of the largest cities in the world, is composed of five boroughs. Each borough now has the same boundaries as the county it is in. County governments were dissolved when the city consolidated in 1898, along with all city, town, and village governments within each county...
of
Queens
Queens
Queens is the easternmost of the five boroughs of New York City. The largest borough in area and the second-largest in population, it is coextensive with Queens County, an administrative division of New York state, in the United States....
. Its streets are privately owned but open to traffic. The Northern Border runs along the L.I.R.R. tracks and Burns Street, the western along Dartmouth Street and Herrick Street, the eastern along Union Turnpike, and the southern border along Kessel Street, Roman Street and Harrow Street.
Plan
The area consists of a 142 acre (0.57465412 km²) development, fashioned after a traditional English Village, that is one of America's oldest
planned communities
Planned community
A planned community, or planned city, is any community that was carefully planned from its inception and is typically constructed in a previously undeveloped area. This contrasts with settlements that evolve in a more ad hoc fashion. Land use conflicts are less frequent in planned communities since...
and the most prominent American example of
Ebenezer Howard
Ebenezer Howard
Sir Ebenezer Howard is known for his publication Garden Cities of To-morrow , the description of a utopian city in which people live harmoniously together with nature. The publication resulted in the founding of the garden city movement, that realized several Garden Cities in Great Britain at the...
's
Garden city movement
Garden city movement
The garden city movement is a method of urban planning that was initiated in 1898 by Sir Ebenezer Howard in the United Kingdom. Garden cities were intended to be planned, self-contained communities surrounded by "greenbelts" , containing proportionate areas of residences, industry and...
. The community, founded in 1908, consists of about 800 homes, townhouses, and apartment buildings, mostly in Tudor, Brick Tudor or
Georgian
Georgian architecture
Georgian architecture is the name given in most English-speaking countries to the set of architectural styles current between 1720 and 1840. It is eponymous for the first four British monarchs of the House of Hanover—George I of Great Britain, George II of Great Britain, George III of the United...
style, in a parklike setting designed by
Frederick Law Olmsted, Jr.
Frederick Law Olmsted, Jr.
Frederick Law Olmsted, Jr. was an American landscape architect best known for his wildlife conservation efforts. He had a lifetime commitment to national parks, and worked on projects in Acadia, the Everglades and Yosemite National Park. Olmsted Point in Yosemite and Olmsted Island at Great Falls...
, son of noted landscape architect
Frederick Law Olmsted
Frederick Law Olmsted
Frederick Law Olmsted was an American journalist, social critic, public administrator, and landscape designer. He is popularly considered to be the father of American landscape architecture, although many scholars have bestowed that title upon Andrew Jackson Downing...
and partner in the
Olmsted Brothers
Olmsted Brothers
The Olmsted Brothers company was an influential landscape design firm in the United States, formed in 1898 by stepbrothers John Charles Olmsted and Frederick Law Olmsted, Jr. .-History:...
firm. Designed with transportation access in mind, the community's central square is adjacent to the
Forest Hills
Forest Hills (LIRR station)
Forest Hills is a commuter rail station on the Main Line of the Long Island Rail Road in Forest HIlls. Like other LIRR stations within New York City, passengers may take advantage of the CityTicket program on weekends...
Long Island Rail Road
Long Island Rail Road
The Long Island Rail Road or LIRR is a commuter rail system serving the length of Long Island, New York. It is the busiest commuter railroad in North America, serving about 81.5 million passengers each year. Established in 1834 and having operated continuously since then, it is the oldest US...
station. The largest apartment buildings stand closest to the station, while more distant buildings are smaller and have larger yards. Although most buildings are single-family homes, the development also includes garden apartment buildings and retail space. Today, the area contains the most expensive housing in the borough of Queens, and some of the most expensive in all of New York City.
Architect
Grosvenor Atterbury
Grosvenor Atterbury
Grosvenor Atterbury was an American architect, urban planner and writer. He studied at Yale University and then travelled in Europe. He studied architecture at Columbia University and worked in the offices of McKim, Mead & White. Much of Atterbury's early work consisted of weekend houses for...
proposed an innovative construction method for some of the houses, most notably on Park End Place: each house was built from approximately 170 standardized
precast concrete
Precast concrete
By producing precast concrete in a controlled environment , the precast concrete is afforded the opportunity to properly cure and be closely monitored by plant employees. Utilizing a Precast Concrete system offers many potential advantages over site casting of concrete...
panels, fabricated off-site and positioned by crane. The system was sophisticated even by modern standards: for example, panels were cast with integral hollow insulation chambers.
The streets were fully laid-out in 1910, many of them winding specifically to discourage through-traffic (
see Street hierarchy

Street hierarchy

The street hierarchy is an urban design technique for laying out road networks that exclude automobile through-traffic from developed areas. It is conceived as a hierarchy of roads that embeds the link importance of each road type in the network topology...



). Though Forest Hills Gardens is private property, it is not a
gated community
Gated community
In its modern form, a gated community is a form of residential community or housing estate containing strictly-controlled entrances for pedestrians, bicycles, and automobiles, and often characterized by a closed perimeter of walls and fences. Gated communities usually consist of small residential...
and through traffic, both automotive and pedestrian, is permitted. Street parking, however, is restricted to community residents; visitors must know a resident or face fine and
wheel clamp
Wheel clamp
A wheel clamp, also known as wheel boot or Denver boot, is a device that is designed to prevent vehicles from being moved. In its most common form, it consists of a clamp that surrounds a vehicle wheel, designed to prevent removal of both itself and the wheel.In the United States, these devices...
ing. The project was almost completed by the mid-1960s when all but the last few remaining lots were developed.
In 1913, the
West Side Tennis Club
West Side Tennis Club
The West Side Tennis Club is a private tennis club located in Forest Hills, a neighborhood in the New York City borough of Queens. It is currently an oasis within the City with 38 courts in all four surfaces , a junior Olympic swimming pool and many other amenities.It is most notable for hosting...
moved from
Manhattan
Manhattan
Manhattan is the oldest and the most densely populated of the five boroughs of New York City. Located primarily on the island of Manhattan at the mouth of the Hudson River, the boundaries of the borough are identical to those of New York County, an original county of the state of New York...
to Forest Hills Gardens. The
U.S. Open
U.S. Open (tennis)
The US Open, formally the United States Open Tennis Championships, is a hardcourt tennis tournament which is the modern iteration of one of the oldest tennis championships in the world, the U.S. National Championship, which for men's singles was first contested in 1881...
and its predecessor national championships were held there until 1978, making the name "Forest Hills" synonymous with
tennis
Tennis
Tennis is a sport usually played between two players or between two teams of two players each . Each player uses a racket that is strung to strike a hollow rubber ball covered with felt over a net into the opponent's court. Tennis is an Olympic sport and is played at all levels of society at all...
for generations.
The
restrictive covenant
Restrictive covenant
A restrictive covenant is a type of real covenant, a legal obligation imposed in a deed by the seller upon the buyer of real estate to do or not to do something. Such restrictions frequently "run with the land" and are enforceable on subsequent buyers of the property...
s for Forest Hills Gardens contain no explicit economic, social or racial restrictions even if "working-class people" were said to be excluded by Eric P. Nash in a 2002
New York Times
article, in his review of
A Modern Arcadia
.
In 2007, Forest Hills Gardens was voted "Best Cottage Community" by
Cottage Living
magazine.
Famous people
David Caruso

David Caruso

David Stephen Caruso is an American film and television actor and producer, best known for his role of Lieutenant Horatio Caine on the TV series CSI: Miami. The role that gained him initial significant recognition was the role of Det...



Pia Zadora

Pia Zadora

Pia Zadora is an American actress and singer. After working as a child actress on Broadway, in regional theater, and in the film Santa Claus Conquers the Martians , she came to national attention in 1981 when, following her starring role in the highly criticized Butterfly, she won a Golden Globe...



Geraldine Ferraro

Geraldine Ferraro

Geraldine Anne Ferraro was an American attorney, a Democratic Party politician, and a member of the United States House of Representatives. She was the first female Vice Presidential candidate representing a major American political party....



Anthony Weiner
Thelma Ritter

Thelma Ritter

Thelma Ritter was an American supporting and character actress from the 1940s until her death in 1969.-Early life:...



Adolph Weinman
Trygve Lie

Trygve Lie

Trygve Halvdan Lie was a Norwegian politician, labour leader, government official and author. He served as Norwegian Foreign minister during the critical years of the Norwegian government in exile in London from 1940 to 1945. From 1946 to 1952 he was the first Secretary-General of the United...



Fred Stone

Fred Stone

Fred Andrew Stone was an American actor. Stone began his career as a performer in circuses and minstrel shows, went on to act on vaudeville, and became a star on Broadway and in feature films, which earned him a star on the Hollywood Walk of Fame.-Biography:He was particularly famous for appearing...



Jimmy Breslin

Jimmy Breslin

Jimmy Breslin is an American journalist and author. He currently writes a column for the New York Daily News' Sunday edition. He has written numerous novels, and columns of his have appeared regularly in various newspapers in his hometown of New York City...



Branch Rickey

Branch Rickey

Wesley Branch Rickey was an innovative Major League Baseball executive elected to the Baseball Hall of Fame in 1967...



Chieli Minucci

Chieli Minucci

Chieli Minucci is an American contemporary jazz guitarist, composer, music producer, and arranger of Italian descent.Minucci was born in New York City and is primarily known as the leader of the Grammy-nominated contemporary jazz group Special EFX...



Jacob Arabo

Jacob Arabo

Jacob Arabo is a Bukharian-American jeweler who is owner and founder of Jacob & Company...



External links