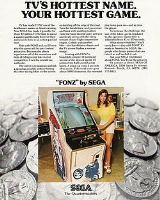 Fonz (arcade)
Fonz
is a
1976
1976 in video gaming
-Events:* In October, Warner Communications acquires Atari from Nolan Bushnell for $28 million USD. Bushnell stays on as chairman.-Notable releases:* Atari releases F-1 and Night Driver...
arcade
Arcade game
An arcade game is a coin-operated entertainment machine, usually installed in public businesses such as restaurants, bars, and amusement arcades. Most arcade games are video games, pinball machines, electro-mechanical games, redemption games, and merchandisers...
racing video game developed by
Sega
Sega
, usually styled as SEGA, is a multinational video game software developer and an arcade software and hardware development company headquartered in Ōta, Tokyo, Japan, with various offices around the world...
and published by
Sega-Gremlin
Gremlin Industries
Gremlin Industries was arcade game manufacturer active from the 1970s to early 1980s, and based San Diego, California, USA .Gremlin was founded in 1973 as a manufacturer of coin-operated wall games. Gremlin's first wall game, Play Ball, was fairly successful.- History :Gremlin joined the video game...
. The game was based on the hit TV show
Happy Days
Happy Days
Happy Days is an American television sitcom that originally aired from January 15, 1974, to September 24, 1984, on ABC. Created by Garry Marshall, the series presents an idealized vision of life in mid-1950s to mid-1960s America....
and the slogan was "TV's hottest name, Your hottest game." The game itself was simply a rebranded variant of Sega's earlier 1976 game
Moto-Cross
in a customized arcade cabinet.
Moto-Cross / Fonz was an early black-and-white motorbike racing game, most notable for introducing an early
three-dimensional
2.5D
2.5D , 3/4 perspective and pseudo-3D are terms used to describe either:* 2D graphical projections and techniques which cause a series of images or scenes to fake or appear to be three-dimensional when in fact they are not, or* gameplay in an otherwise three-dimensional video game that is...
third-person perspective. Both versions of the game displayed a constantly-changing forward-
scrolling
Scrolling
In computer graphics, filmmaking, television production, and other kinetic displays, scrolling is sliding text, images or video across a monitor or display. "Scrolling", as such, does not change the layout of the text or pictures, or but incrementally moves the user's view across what is...
road and the player's bike in a third-person perspective where objects nearer to the player are larger than those nearer to the horizon, and the aim was to steer the vehicle across the road, racing against the clock, while avoiding any on-coming motorcycles or driving off the road. The game also introduced the use of haptic feedback, which caused the
motorcycle handlebar
Motorcycle handlebar
Motorcycle handlebar refers to the steering mechanism for motorcycles. Handlebars often support part of the rider's weight, and provide a mounting place for controls such as brake, throttle, clutch, horn, light switch, and rear view mirrors....
s to vibrate during a
collision
Collision detection
Collision detection typically refers to the computational problem of detecting the intersection of two or more objects. While the topic is most often associated with its use in video games and other physical simulations, it also has applications in robotics...
with another vehicle.
Gameplay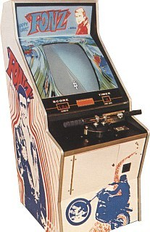 The general premise was the player controlled the Fonz on a
motorcycle
Motorcycle
A motorcycle is a single-track, two-wheeled motor vehicle. Motorcycles vary considerably depending on the task for which they are designed, such as long distance travel, navigating congested urban traffic, cruising, sport and racing, or off-road conditions.Motorcycles are one of the most...
with handlebars on the cabinet where the motorcycle would be.
The player had to go as fast as possible without skidding off the road or colliding with other racing bikes on the screen. Turn the handlebars, and the bike would corner and bank. Twist the handle throttle open, and it would accelerate. When a collision with another bike occurs, the handlebars vibrate and the screen flashes a reverse image. To increase the challenge, the size of the bike can be regulated by the operator (usually the person that owned the arcade).
Game time is adjustable from 45 to 100 seconds.
Development
Sega was allowed to rebrand their game as Fonz because its American branch at the time was owned by
Charles Bluhdorn
Charles Bluhdorn
Charles Blühdorn was a Vienna, Austria-born American industrialist.-Biography:Per a Who's Who in Ridgefield he was considered such a "hellion" that his father sent the 11-year-old to an English boarding school for disciplining...
's
Gulf+Western Company
Gulf+Western
Gulf and Western Industries, Inc., for a number of years known as Gulf+Western, was an American conglomerate.- History :Gulf and Western's prosaic origins date to a manufacturer named Michigan Bumper Co. founded in 1934, though Charles Bluhdorn treated his 1958 takeover of what was then Michigan...
and they were thus legally permitted to access
Paramount Television
Paramount Television
Paramount Television was an American television production/distribution company that was active from January 1, 1968 to August 27, 2006.Its successor is CBS Television Studios, formerly CBS Paramount Television...
's material without any written consent (because the two were owned by the same parent company during that era). Modeling the first release of the Fonz arcade game was a female Sega staff member wearing a yellow top and white pair of short pants and standing in front of the other arcade machines in the background (presumably made by Sega).
Since the arcade game was released in Happy Days second season, it didn't have to rely on the Fonz's later accomplishments like
jumping the shark
Jumping the shark
Jumping the shark is an idiom used to describe the moment in the evolution of a television show when it begins a decline in quality that is beyond recovery....
or crossing over into the universes of either Mork & Mindy or
Laverne & Shirley
Laverne & Shirley
Laverne & Shirley is an American television situation comedy that ran on ABC from January 26, 1976, to May 10, 1983...
. No other aspects of the Fonz were mentioned in the video game except his motorcycling, his motorcycling clothes, and Fonz himself. Sega's Fonz was likely the first game based on a TV character.
External links