 Fisheries science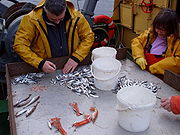 Fisheries science
is the academic discipline of managing and understanding fisheries. It is a multidisciplinary science, which draws on the disciplines of
oceanography
Oceanography
Oceanography , also called oceanology or marine science, is the branch of Earth science that studies the ocean...
,
marine biology
Marine biology
Marine biology is the scientific study of organisms in the ocean or other marine or brackish bodies of water. Given that in biology many phyla, families and genera have some species that live in the sea and others that live on land, marine biology classifies species based on the environment rather...
,
marine conservation
Marine conservation
Marine conservation, also known as marine resources conservation, is the protection and preservation of ecosystems in oceans and seas. Marine conservation focuses on limiting human-caused damage to marine ecosystems, and on restoring damaged marine ecosystems...
,
ecology
Ecology
Ecology is the scientific study of the relations that living organisms have with respect to each other and their natural environment. Variables of interest to ecologists include the composition, distribution, amount , number, and changing states of organisms within and among ecosystems...
,
population dynamics
Population dynamics of fisheries
A fishery is an area with an associated fish or aquatic population which is harvested for its commercial or recreational value. Fisheries can be wild or farmed. Population dynamics describes the ways in which a given population grows and shrinks over time, as controlled by birth, death, and...
,
economics
Economics
Economics is the social science that analyzes the production, distribution, and consumption of goods and services. The term economics comes from the Ancient Greek from + , hence "rules of the house"...
and
management
Management
Management in all business and organizational activities is the act of getting people together to accomplish desired goals and objectives using available resources efficiently and effectively...
to attempt to provide an integrated picture of fisheries. In some cases new disciplines have emerged, as in the case of
bioeconomics
Bioeconomics
Bioeconomics is closely related to the early development of theories in fisheries economics, initially in the mid 1950s by Canadian economists Scott Gordon and Anthony Scott...
.
Fisheries science is typically taught in a
university
University
A university is an institution of higher education and research, which grants academic degrees in a variety of subjects. A university is an organisation that provides both undergraduate education and postgraduate education...
setting, and can be the focus of an undergraduate,
master's
Master's degree
A master's is an academic degree granted to individuals who have undergone study demonstrating a mastery or high-order overview of a specific field of study or area of professional practice...
or
Ph.D.
Doctor of Philosophy
Doctor of Philosophy, abbreviated as Ph.D., PhD, D.Phil., or DPhil , in English-speaking countries, is a postgraduate academic degree awarded by universities...
program. Some universities offer fully integrated programs in fisheries science.
Notable contributors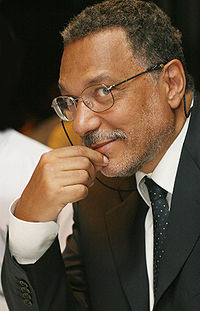 Professional societies
Journals
Some journals about fisheries are
See also
Aquaculture

Aquaculture

Aquaculture, also known as aquafarming, is the farming of aquatic organisms such as fish, crustaceans, molluscs and aquatic plants. Aquaculture involves cultivating freshwater and saltwater populations under controlled conditions, and can be contrasted with commercial fishing, which is the...



Fisheries management

Fisheries management

Fisheries management draws on fisheries science in order to find ways to protect fishery resources so sustainable exploitation is possible. Modern fisheries management is often referred to as a governmental system of appropriate management rules based on defined objectives and a mix of management...



Fisheries and aquaculture research institutes
International Council for the Exploration of the Sea

International Council for the Exploration of the Sea

The International Council for the Exploration of the Sea is the world's oldest intergovernmental science organization. ICES is headquartered in Copenhagen, Denmark, where its multinational Secretariat staff of 51 provide scientific, administrative and secretarial support to the ICES community...



External links
The Sea Ahead... learning from the past. A web site of the Peter Wall Institute for Advanced Studies

Peter Wall Institute for Advanced Studies

Founded in 1991, the Peter Wall Institute for Advanced Studies is the senior research institute at the University of British Columbia. It supports basic research through collaborative, interdisciplinary initiatives...


promoting ecosystem-based fisheries science.