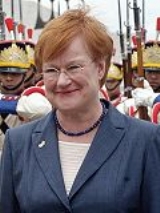 Finnish presidential election, 2000
Presidential elections
were held in
Finland
Finland
Finland , officially the Republic of Finland, is a Nordic country situated in the Fennoscandian region of Northern Europe. It is bordered by Sweden in the west, Norway in the north and Russia in the east, while Estonia lies to its south across the Gulf of Finland.Around 5.4 million people reside...
on 16 January 2000, with a second round on 6 February. The result was a victory for
Tarja Halonen
Tarja Halonen
Tarja Kaarina Halonen is the incumbent President of Finland. The first female to hold the office, Halonen had previously been a member of the parliament from 1979 to 2000 when she resigned after her election to the presidency...
of the
Social Democratic Party
Social Democratic Party of Finland
The Social Democratic Party of Finland is one of the three major political parties in Finland, along with the Centre Party and the National Coalition Party. Jutta Urpilainen is the current SDP leader. The party has been in the Finnish government cabinet for long periods and has set many...
, who became the country's first female President. During the elections Halonen was the incumbent Minister for Foreign Affairs.
Results
Candidate
Party
First round
Second round
Votes
%
Votes
%
Tarja Halonen

Tarja Halonen

Tarja Kaarina Halonen is the incumbent President of Finland. The first female to hold the office, Halonen had previously been a member of the parliament from 1979 to 2000 when she resigned after her election to the presidency...



Social Democratic Party

Social Democratic Party of Finland

The Social Democratic Party of Finland is one of the three major political parties in Finland, along with the Centre Party and the National Coalition Party. Jutta Urpilainen is the current SDP leader. The party has been in the Finnish government cabinet for long periods and has set many...



1,224,431
40.0
1,644,532
51.6
Esko Aho

Esko Aho

Esko Tapani Aho is a statesman and former Prime Minister of Finland.-Early life and career:Aho was born in Veteli, Finland. Prior to attending university, he began a career in politics. From 1974 to 1979, he was Chairman of the Finnish Centre Youth, which had before him grown many of his...



Centre Party

Centre Party (Finland)

The Centre Party is a centrist and Nordic agrarian political party in Finland. It is one of the four largest political parties in the country, along with the Social Democratic Party , the National Coalition Party and the True Finns , and currently has 35 seats in the Finnish Parliament...



1,051,159
34.4
1,540,803
48.4
Riitta Uosukainen

Riitta Uosukainen

Riitta Maria Uosukainen is a Finnish politician and former Member of Parliament. She is one of the eight people to gain the highest honorary title, valtioneuvos, given by the President....



National Coalition Party
392,305
12.8
Elisabeth Rehn

Elisabeth Rehn

Märta Elisabeth Rehn is a former MP of the Swedish People's Party and the first female Minister of Defence in Finland. In the 1994 presidential elections she was narrowly defeated by Martti Ahtisaari.Elisabeth Rehn spent her childhood in Mäntsälä, where her father worked as a community medical...



Swedish People's Party
241,877
7.9
Heidi Hautala

Heidi Hautala

-External links:* * *...



Green League

Green League

The Green League is a centrist green liberal political party in Finland. It has ten seats in the Finnish Parliament and two in the European Parliament. The current chairperson is Ville Niinistö....



100,740
3.3
Ilkka Hakalehto
True Finns

True Finns

True Finns or The Finns is a populist and nationalist political party in Finland, founded in 1995 following the dissolution of the Finnish Rural Party. The head of the movement is Timo Soini. In the 2011 Finnish parliamentary election, The party won 19.1% of votes, becoming the third largest party...



31,405
1.0
Risto Kuisma
Reform Group
16,943
0.6
Invalid/blank votes
9,290
–
16,378
–
Total
3,068,150
100
3,201,713
100
Source: Nohlen & Stöver