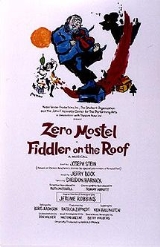 Fiddler on the Roof
Fiddler on the Roof
is a
musical
Musical theatre
Musical theatre is a form of theatre combining songs, spoken dialogue, acting, and dance. The emotional content of the piece – humor, pathos, love, anger – as well as the story itself, is communicated through the words, music, movement and technical aspects of the entertainment as an...
with music by
Jerry Bock
Jerry Bock
Jerrold Lewis "Jerry" Bock was an American musical theater composer. He received the Tony Award for Best Musical and the Pulitzer Prize for Drama with Sheldon Harnick for their 1959 musical Fiorello! and the Tony Award for Best Composer and Lyricist for the 1964 musical Fiddler on the Roof with...
,
lyrics
Lyrics
Lyrics are a set of words that make up a song. The writer of lyrics is a lyricist or lyrist. The meaning of lyrics can either be explicit or implicit. Some lyrics are abstract, almost unintelligible, and, in such cases, their explication emphasizes form, articulation, meter, and symmetry of...
by
Sheldon Harnick
Sheldon Harnick
Sheldon Harnick is an American lyricist best known for his collaborations with composer Jerry Bock on hit musicals such as Fiddler on the Roof....
, and book by
Joseph Stein
Joseph Stein
Joseph Stein was an American playwright best known for writing the books for such musicals as Fiddler on the Roof and Zorba.-Biography:...
, set in
Tsarist
Tsardom of Russia
The Tsardom of Russia was the name of the centralized Russian state from Ivan IV's assumption of the title of Tsar in 1547 till Peter the Great's foundation of the Russian Empire in 1721.From 1550 to 1700, Russia grew 35,000 km2 a year...
Russia
Russia
Russia or , officially known as both Russia and the Russian Federation , is a country in northern Eurasia. It is a federal semi-presidential republic, comprising 83 federal subjects...
in 1905. It is based on Tevye and his Daughters (or Tevye the Milkman and Other Tales) by Sholem Aleichem. The story centers on
Tevye
Tevye
Tevye the Dairyman is the protagonist of several of Sholem Aleichem's stories, originally written in Yiddish and first published in 1894. The character became best known from the fictional memoir Tevye and his Daughters , about a pious Jewish milkman in Tsarist Russia, and the troubles he has with...
, the father of five daughters, and his attempts to maintain his family and Jewish religious traditions while outside influences encroach upon their lives. He must cope with both the strong-willed actions of his three older daughters—each one's choice of husband moves further away from the customs of his faith—and with the edict of the
Tsar
Nicholas II of Russia
Nicholas II was the last Emperor of Russia, Grand Prince of Finland, and titular King of Poland. His official short title was Nicholas II, Emperor and Autocrat of All the Russias and he is known as Saint Nicholas the Passion-Bearer by the Russian Orthodox Church.Nicholas II ruled from 1894 until...
that evicts the Jews from their village.
The original
Broadway
Broadway theatre
Broadway theatre, commonly called simply Broadway, refers to theatrical performances presented in one of the 40 professional theatres with 500 or more seats located in the Theatre District centered along Broadway, and in Lincoln Center, in Manhattan in New York City...
production of the show, which opened in 1964, had the first musical theatre run in history to surpass 3,000 performances.
[Opening lines] A fiddler on the roof. Sounds crazy, no? But in our little village of Anatevka, every one of us is a fiddler on the roof trying to scratch out a pleasant, simple tune without breaking his neck. It isn't easy. You may ask, why do we stay here if it's so dangerous? We stay because Anatevka is our home. And how do we keep our balance? That I can tell you in one word: Tradition!

Traditions, traditions. Without our traditions, our lives would be as shaky as... as... as a fiddler on the roof!

[to God] Sometimes I wonder, when it gets too quiet up there, if You are thinking, "What kind of mischief can I play on My friend Tevye?"

[to God] It may sound like I'm complaining, but I'm not. After all, with Your help, I'm starving to death.

[to God] Oh, dear Lord. You made many many poor people. I realize, of course, it's no shame to be poor... but it's no great honor either. So what would be so terrible... if I had a small fortune?

As the Good Book says, if you spit in the air, it lands in your face.

[to God] I know, I know. We are Your chosen people. But, once in a while, can't You choose someone else?

[to Chava] As the Good Book says "Each shall seek his own kind". In other words, a bird may love a fish... but where would they build a home together?

When I get angry, even flies don't dare to fly!