 Fibrosis
Fibrosis
is the formation of excess fibrous
connective tissue
Connective tissue
"Connective tissue" is a fibrous tissue. It is one of the four traditional classes of tissues . Connective Tissue is found throughout the body.In fact the whole framework of the skeleton and the different specialized connective tissues from the crown of the head to the toes determine the form of...
in an organ or tissue in a reparative or reactive process. This is as opposed to formation of fibrous tissue as a normal constituent of an organ or tissue.
Scar
Scar
Scars are areas of fibrous tissue that replace normal skin after injury. A scar results from the biological process of wound repair in the skin and other tissues of the body. Thus, scarring is a natural part of the healing process. With the exception of very minor lesions, every wound results in...
ring is confluent fibrosis that obliterates the architecture of the underlying organ or tissue.
The term is also sometimes used to describe a normal healing process, but this usage is less common.
Examples of fibrosis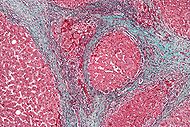 Pulmonary fibrosis

Pulmonary fibrosis

Pulmonary fibrosis is the formation or development of excess fibrous connective tissue in the lungs. It is also described as "scarring of the lung".-Symptoms:Symptoms of pulmonary fibrosis are mainly:...


(lungs)

Idiopathic pulmonary fibrosis

Idiopathic pulmonary fibrosis

Idiopathic pulmonary fibrosis is a chronic, progressive form of lung disease characterized by fibrosis of the supporting framework of the lungs...


(where the cause is unknown)
Cystic fibrosis

Cystic fibrosis

Cystic fibrosis is a recessive genetic disease affecting most critically the lungs, and also the pancreas, liver, and intestine...




Cirrhosis

Cirrhosis

Cirrhosis is a consequence of chronic liver disease characterized by replacement of liver tissue by fibrosis, scar tissue and regenerative nodules , leading to loss of liver function...


(liver)
Endomyocardial fibrosis (heart)
Mediastinal fibrosis

Mediastinal fibrosis

Mediastinal fibrosis is a rare late complication of histoplasmosis. It is characterized by invasive, calcified fibrosis centered on lymph nodes that block major vessels and airways....


(soft tissue of the mediastinum)
Myelofibrosis

Myelofibrosis

Myelofibrosis, also known as myeloid metaplasia, chronic idiopathic myelofibrosis, osteomyelofibrosis and primary myelofibrosis is a disorder of the bone marrow...


(bone marrow)
Retroperitoneal fibrosis

Retroperitoneal fibrosis

Retroperitoneal fibrosis or Ormond's disease is a disease featuring the proliferation of fibrous tissue in the retroperitoneum, the compartment of the body containing the kidneys, aorta, renal tract and various other structures. It may present with lower back pain, renal failure, hypertension, deep...


(soft tissue of the retroperitoneum)
Progressive massive fibrosis

Progressive massive fibrosis

Progressive Massive Fibrosis , characterized by the development of large conglomerate masses of dense fibrosis , can complicate Silicosis and Coal worker's pneumoconiosis...


(lungs); a complication of coal workers' pneumoconiosis

Pneumoconiosis

Pneumoconiosis is an occupational lung disease and a restrictive lung disease caused by the inhalation of dust, often in mines.-Types:Depending upon the type of dust, the disease is given different names:...



Nephrogenic systemic fibrosis

Nephrogenic systemic fibrosis

Nephrogenic systemic fibrosis or nephrogenic fibrosing dermopathy is a rare and serious syndrome that involves fibrosis of skin, joints, eyes, and internal organs. Its cause is not fully understood...


(skin)
Crohn's Disease

Crohn's disease

Crohn's disease, also known as regional enteritis, is a type of inflammatory bowel disease that may affect any part of the gastrointestinal tract from mouth to anus, causing a wide variety of symptoms...


(intestine)
Keloid

Keloid

A keloid is a type of scar, which depending on its maturity, is composed mainly of either type III or type I collagen. It is a result of an overgrowth of granulation tissue at the site of a healed skin injury which is then slowly replaced by collagen type 1...


(skin)
Old myocardial infarction

Myocardial infarction

Myocardial infarction or acute myocardial infarction , commonly known as a heart attack, results from the interruption of blood supply to a part of the heart, causing heart cells to die...


(heart)
Scleroderma

Scleroderma

Systemic sclerosis or systemic scleroderma is a systemic autoimmune disease or systemic connective tissue disease that is a subtype of scleroderma.-Skin symptoms:...


/systemic sclerosis (skin, lungs)
Arthrofibrosis

Arthrofibrosis

Arthrofibrosis is a complication of injury or trauma where an excessive scar tissue response leads to painful restriction of joint motion, with scar tissue forming within the joint and surrounding soft tissue spaces and persisting despite rehabilitation exercises and stretches...


(knee, shoulder, other joints)
Some forms of adhesive capsulitis (shoulder)
Types
Type
Most common location(s)
Circumscription
Cellularity
Vascularity

Vascularity

Vascularity, in bodybuilding, is the condition of having prominent, visible veins.Vascularity is enhanced by extremely low body fat , low retained water, high blood pressure and muscle engorgement. Genetics will affect vascularity as well as ambient temperature. Some bodybuilders use topical...


and nature of vessels
Appearance of collagen

Collagen

Collagen is a group of naturally occurring proteins found in animals, especially in the flesh and connective tissues of mammals. It is the main component of connective tissue, and is the most abundant protein in mammals, making up about 25% to 35% of the whole-body protein content...



Elastic fibers
Picture
Nuchal fibroma

Nuchal fibroma

A nuchal fibroma is a rare benign mass consisting of dense, hypocellular bundles of collagenous tissue with entrapped adipocytes and increased numbers of small nerves. It most commonly occurs on the posterior neck , but also occurs in other locations.Identical lesions are seen in Gardner's syndrome...



Nuchal region
No
Very low
Very low
Bundles of fibers
Scant
Collagenous fibroma

Collagenous fibroma

Collagenous fibroma is a slow-growing, deep-set, benign fibrous tumor, usually located in the deep subcutis, fascia, aponeurosis, or skeletal muscle of the extremities, limb girdles, or head and neck regions....



Shoulder girdle, extremities

Extremities

Extremities may refer to:* Extremities , a play by William Mastrosimone* Extremities , a film based on the play* limbs of the body, in medical terminology...



Yes, by macroscopic appearance, but microscopically infiltrative
Increased but generally low
Low
Scant or absent
Amorphous
Fibroma of tendon sheath

Fibroma of tendon sheath

Fibroma of tendon sheath is a cutaneous condition characterized by a benign tumor that presents as a small subcutaneous nodule that slowly increases in size. These lesions are composed of bland myofibroblasts in a dense fibrous background with cleft-like vessels. The tumor often has a multinodular...



Distal extremities, especially the hand

Hand

A hand is a prehensile, multi-fingered extremity located at the end of an arm or forelimb of primates such as humans, chimpanzees, monkeys, and lemurs...



Yes
Low to high
Moderate to high, with some slitlike vessels
Amorphous
Absent
Scar

Scar

Scars are areas of fibrous tissue that replace normal skin after injury. A scar results from the biological process of wound repair in the skin and other tissues of the body. Thus, scarring is a natural part of the healing process. With the exception of very minor lesions, every wound results in...



Variable
Variable
Low to high
Variable
Amorphous
Scant to absent
Elastofibroma
Subscapular

Subscapular

Subscapular may refer to:*Subscapular artery*Upper subscapular nerve*Lower subscapular nerve*Subscapularis muscle...


chest wall
No
Low to moderate
Low
Amorphous
Abundant and abnormal
Desmoid-type fibromatosis

Fibromatosis

The term fibromatosis refers to a group of benign soft tissue tumors which have certain characteristics in common, including absence of cytologic and clinical malignant features, a histology consistent with proliferation of well-differentiated fibroblasts, an infiltrative growth pattern, and...



Abdominal wall, shoulder girdle
Yes, by macroscopic appearance, but microscopically infiltrative
Moderate
Moderate, mildly dilated
Amorphous
Absent
Keloid

Keloid

A keloid is a type of scar, which depending on its maturity, is composed mainly of either type III or type I collagen. It is a result of an overgrowth of granulation tissue at the site of a healed skin injury which is then slowly replaced by collagen type 1...



Upper part of back, deltoid, presternal, ear lobes
No
Some fibroblasts
Low
Amorphous thick eosinophilic bundles
Scant or Absent
External links