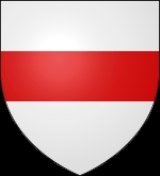 Fess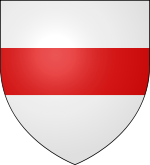 In
heraldry
Heraldry
Heraldry is the profession, study, or art of creating, granting, and blazoning arms and ruling on questions of rank or protocol, as exercised by an officer of arms. Heraldry comes from Anglo-Norman herald, from the Germanic compound harja-waldaz, "army commander"...
, a
fess
or
fesse
(from
Middle English
Middle English
Middle English is the stage in the history of the English language during the High and Late Middle Ages, or roughly during the four centuries between the late 11th and the late 15th century....
fesse
, from
Old French
Old French
Old French was the Romance dialect continuum spoken in territories that span roughly the northern half of modern France and parts of modern Belgium and Switzerland from the 9th century to the 14th century...
, from
Latin
Latin
Latin is an Italic language originally spoken in Latium and Ancient Rome. It, along with most European languages, is a descendant of the ancient Proto-Indo-European language. Although it is considered a dead language, a number of scholars and members of the Christian clergy speak it fluently, and...
fascia
, "band") is a
charge
Charge (heraldry)
In heraldry, a charge is any emblem or device occupying the field of an escutcheon . This may be a geometric design or a symbolic representation of a person, animal, plant, object or other device...
on a
coat of arms
Coat of arms
A coat of arms is a unique heraldic design on a shield or escutcheon or on a surcoat or tabard used to cover and protect armour and to identify the wearer. Thus the term is often stated as "coat-armour", because it was anciently displayed on the front of a coat of cloth...
that takes the form of a band running horizontally across the centre of the shield. Writers disagree in how much of the shield's surface is to be covered by a fess or other
ordinary
Ordinary (heraldry)
In heraldry, an ordinary is a simple geometrical figure, bounded by straight lines and running from side to side or top to bottom of the shield. There are also some geometric charges known as subordinaries, which have been given lesser status by some heraldic writers, though most have been in use...
, ranging from one-fifth to one-third. The
Oxford Guide to Heraldry
states that earlier writers including Leigh, Holme, and Guillim favour one-third, while later writers such as Edmondson favour one-fifth "on the grounds that a bend, pale, or chevron occupying one-third of the field makes the coat look clumsy and disagreeable." A fess is likely to be shown narrower if it is
uncharged
, that is, if it does not have other charges placed on it, and/or if it is to be shown with charges above and below it; and shown wider if
charged
. The fess or bar, termed
fasce
in
French heraldry
French heraldry
French heraldry is the use of heraldic symbols in France. Although it had a considerable history, like England, existing from the eleventh century, such formality has largely died out in France. The role of the herald in France declined in the seventeenth century...
, should not be confused with
fasces
Fasces
Fasces are a bundle of wooden sticks with an axe blade emerging from the center, which is an image that traditionally symbolizes summary power and jurisdiction, and/or "strength through unity"...
.
Diminutives
In
English heraldry
English heraldry
English heraldry is the form of coats of arms and other heraldic bearings and insignia used in England. It lies within the Gallo-British tradition. Coats of arms in England are regulated and granted to individuals by the College of Arms. They are subject to a system of cadency to distinguish...
, two or more such charges appearing together on a shield are termed
bars
, though there are no definitive rules setting the width of the fess, the bar, nor their comparative width. A shield of (often six or eight) horizontal stripes of alternating colour is called
barry
. Narrower versions of the bar are called
barrulets
("little bars"), and when a shield of horizontal stripes alternating colour is composed of ten or more stripes, it is called
barruly
or
burely
instead of
barry
. A
cotise
, defined as half the width of a barrulet, may be borne alongside a fess, and often two of these appear, one on either side of the fess. This is often termed "a fess cotised" (also
cottised
,
coticed
or
cotticed
). Another diminutive of the fess called a
closet
is said to be between a bar and barrulet, but this is seldom found. A fess when
couped
("cut off" at either end, and so not reaching the sides of the shield) can be called
humetty
, but this term is very rare in the Anglophone heraldries and is most often used of the
cross
Cross
A cross is a geometrical figure consisting of two lines or bars perpendicular to each other, dividing one or two of the lines in half. The lines usually run vertically and horizontally; if they run obliquely, the design is technically termed a saltire, although the arms of a saltire need not meet...
.
Other uses
A shield
party per fess
(or simply
per fess
) is divided in half horizontally (
in the manner of a fess
). A charge placed horizontally may be termed
fesswise
or
fessways
, and two or more charges arranged in a horizontal row are blazoned
in fess
or
in bar
.
Notable and unusual forms
A
mural fess
can be seen in the arms of Suzanne Elizabeth Altvater.
The arms of Baroness Fritchie provide an example of
three Barrulets fracted and there conjoined to a Chevronel
.
Further reading
Boutell, Charles (1890). Heraldry, Ancient and Modern: Including Boutell's Heraldry. London: Frederick Warne.
Fox-Davies, Arthur Charles (1909). A Complete Guide to Heraldry. New York: Dodge Pub. Co. ISBN 0517266431.
Neubecker, Ottfried (1976). Heraldry: Sources, Symbols and Meaning. Maidenhead, England: McGraw-Hill. ISBN 0070463123.
Volborth, Carl-Alexander von (1981). Heraldry: Customs, Rules and Styles. Poole, England: Blandford Press. ISBN 0713709405.
Woodcock, Thomas and John Martin Robinson (1988). The Oxford Guide to Heraldry. Oxford: University Press. ISBN 0192116584.
Woodward, John and George Burnett (1892). Woodward's a treatise on heraldry, British and foreign. Edinburgh: W. & A. K. Johnson. ISBN 0715344641.