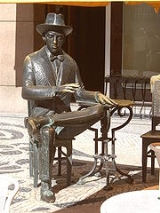 Fernando Pessoa
Fernando Pessoa
, born
Fernando António Nogueira de Seabra Pessoa
(June 13, 1888,
Lisbon
Lisbon
Lisbon is the capital city and largest city of Portugal with a population of 545,245 within its administrative limits on a land area of . The urban area of Lisbon extends beyond the administrative city limits with a population of 3 million on an area of , making it the 9th most populous urban...
– November 30, 1935, Lisbon), was a Portuguese poet, writer, literary critic and translator described as one of the most significant literary figures of the 20th century and one of the greatest poets in the Portuguese language.
On 13 July 1893, when Pessoa was five, his father, Joaquim de Seabra Pessôa, died of
tuberculosis
Tuberculosis
Tuberculosis, MTB, or TB is a common, and in many cases lethal, infectious disease caused by various strains of mycobacteria, usually Mycobacterium tuberculosis. Tuberculosis usually attacks the lungs but can also affect other parts of the body...
.
The Gods sell when they give. / Glory is paid for with disgrace. / Poor are the happy, for they are / Just what passes.

Original: Os Deuses vendem quando dão. / Compra-se a glória com desgraça. / Ai dos felizes, porque são / Só o que passa!
Myth is the nothing that is all.

Original: O mito é o nada que é tudo.
All beginnings are involuntary.

Original: Todo começo é involuntário.
Against destiny I fulfilled my duty . / Uselessly? No, for I fulfilled it.

Original: Cumpri contra o Destino o meu dever. / Inutilmente? Não, porque o cumpri.
Clear in thinking, and clear in feeling, / and clear in wanting

Original: Claro em pensar, e claro no sentir, / e claro no querer
Faithful to the word given and the idea had. / All else is up to God!

Original: Fiel à palavra dada e à ideia tida. / Tudo o mais é com Deus!
Without madness what is man / more than the healthy beast, / corpse adjourned that procreates?

Original: Sem a loucura que é o homem / Mais que a besta sadia, / Cadáver adiado que procria?
God wills, man dreams, the work is born.

Original: Deus quer, o homem sonha, a obra nasce.
The sea is fulfilled, and the Empire undid itself. / Lord, Portugal remains to be accomplished!

Original: Cumpriu-se o Mar, e o Império se desfez. / Senhor, falta cumprir-se Portugal!