 Ferdinand Adolf Kehrer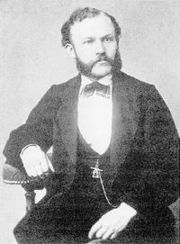 Ferdinand Adolf Kehrer
was a German gynecologist who was a native of
Guntersblum
Guntersblum
Guntersblum is an Ortsgemeinde– a municipality belonging to a Verbandsgemeinde, a kind of collective municipality – in the Frankfurt/Rhine-Main Metropolitan Region in the Mainz-Bingen district in Rhineland-Palatinate, Germany.- Location :...
in Rhenish Hesse. He was the father of
neurologist
Neurologist
A neurologist is a physician who specializes in neurology, and is trained to investigate, or diagnose and treat neurological disorders.Neurology is the medical specialty related to the human nervous system. The nervous system encompasses the brain, spinal cord, and peripheral nerves. A specialist...
Ferdinand Adalbert Kehrer (1883-1966).
He studied medicine at the
University of Giessen
University of Giessen
The University of Giessen is officially called the Justus Liebig University Giessen after its most famous faculty member, Justus von Liebig, the founder of modern agricultural chemistry and inventor of artificial fertiliser.-History:The University of Gießen is among the oldest institutions of...
under
Ferdinand von Ritgen
Ferdinand August Maria Franz von Ritgen
Ferdinand August Maria Franz von Ritgen was a German obstetrician born in the Westphalian village of Wulfen . He is remembered for instruction in the field of midwifery....
(1787-1867), at Munich with Carl von Hecker (1827–1882) and in
Vienna
University of Vienna
The University of Vienna is a public university located in Vienna, Austria. It was founded by Duke Rudolph IV in 1365 and is the oldest university in the German-speaking world...
under Karl von Braun-Fernwald (1822-1891). From 1871 to 1881 he was a professor of obstetrics (
ordinarius
in 1872) at Giessen, where he was also director of the
Frauenklinik
. In 1881 he relocated to the University of Heidelberg as chair of gynecology.
Kehrer is remembered for performing the first modern
Caesarean section
Caesarean section
A Caesarean section, is a surgical procedure in which one or more incisions are made through a mother's abdomen and uterus to deliver one or more babies, or, rarely, to remove a dead fetus...
. This involved a transverse incision of the lower segment of the
uterus
Uterus
The uterus or womb is a major female hormone-responsive reproductive sex organ of most mammals including humans. One end, the cervix, opens into the vagina, while the other is connected to one or both fallopian tubes, depending on the species...
, a method that minimizes bleeding, and is still widely used today.
On September 25, 1881, Kehrer performed the first modern C-section in
Meckesheim
Meckesheim
Meckesheim is a village in south western Germany. It is located between Heidelberg and Sinsheim in the Rhein-Neckar district in the state of Baden-Württemberg.-History:...
on a 26-year old woman. The operation was a success. Prior to Kehrer's operation, Caesarean sections were seldom performed, and when they were, the
mortality rate
Mortality rate
Mortality rate is a measure of the number of deaths in a population, scaled to the size of that population, per unit time...
of mothers was very high. The following year, Max Sanger (1853-1903), introduced the practice of suturing the uterus' Caesarean wound.
He died in
Heidelberg
Heidelberg
-Early history:Between 600,000 and 200,000 years ago, "Heidelberg Man" died at nearby Mauer. His jaw bone was discovered in 1907; with scientific dating, his remains were determined to be the earliest evidence of human life in Europe. In the 5th century BC, a Celtic fortress of refuge and place of...
.
Selected publications
Die Geburten in Schädellagen mit rückwärts gerichtetem Hinterhaupt, (Dissertation- Giessen 1860)
Lehrbuch der Geburtshilfe für Hebammen, (Textbook of Midwifery

Midwifery

Midwifery is a health care profession in which providers offer care to childbearing women during pregnancy, labour and birth, and during the postpartum period. They also help care for the newborn and assist the mother with breastfeeding....


for Midwives), 1880 and 1891
Ueber den Soorpilz– Pulscurve im Wochenbett, (Heidelberg 1883)
Physiologie und Pathologie des Wochenbetts, (Physiology

Physiology

Physiology is the science of the function of living systems. This includes how organisms, organ systems, organs, cells, and bio-molecules carry out the chemical or physical functions that exist in a living system. The highest honor awarded in physiology is the Nobel Prize in Physiology or...


and Pathology

Pathology

Pathology is the precise study and diagnosis of disease. The word pathology is from Ancient Greek , pathos, "feeling, suffering"; and , -logia, "the study of". Pathologization, to pathologize, refers to the process of defining a condition or behavior as pathological, e.g. pathological gambling....


of the Puerperium), in Volumes I and III of P. Müller's Handbuch der Geburtshülfe (1888-89)
Lehrbuch der operativen Geburtshilfe, (Textbook of Operative Obstetrics), 1891