 Federalist No. 73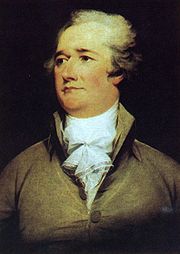 Federalist No. 73
is an
essay
Essay
An essay is a piece of writing which is often written from an author's personal point of view. Essays can consist of a number of elements, including: literary criticism, political manifestos, learned arguments, observations of daily life, recollections, and reflections of the author. The definition...
by
Alexander Hamilton
Alexander Hamilton
Alexander Hamilton was a Founding Father, soldier, economist, political philosopher, one of America's first constitutional lawyers and the first United States Secretary of the Treasury...
and the seventy-third of the
Federalist Papers
Federalist Papers
The Federalist Papers are a series of 85 articles or essays promoting the ratification of the United States Constitution. Seventy-seven of the essays were published serially in The Independent Journal and The New York Packet between October 1787 and August 1788...
. It was published on March 21, 1788 under the
pseudonym
Pseudonym
A pseudonym is a name that a person assumes for a particular purpose and that differs from his or her original orthonym...
Publius, the name under which all the
Federalist Papers
were published. Its title is, "The Provision For The Support of the Executive, and the Veto Power", and it is the seventh in a series of 11 essays discussing the powers and limitations of the Executive branch.
This paper discusses and justifies the Executive branch's powers over the Legislature, namely, the Legislature's lack of power to increase or decrease the salary of the President during his/her term, and the Executive Veto.
External links