 Federal Labor Court of Germany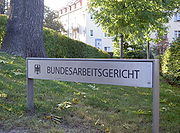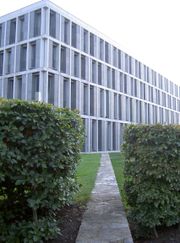 The
Federal Labor Court
(
Bundesarbeitsgericht
) is the court of the last resort for cases of
labour law
Labour law
Labour law is the body of laws, administrative rulings, and precedents which address the legal rights of, and restrictions on, working people and their organizations. As such, it mediates many aspects of the relationship between trade unions, employers and employees...
in
Germany
Germany
Germany , officially the Federal Republic of Germany , is a federal parliamentary republic in Europe. The country consists of 16 states while the capital and largest city is Berlin. Germany covers an area of 357,021 km2 and has a largely temperate seasonal climate...
, both for individual labour law (mostly concerning
contract
Contract
A contract is an agreement entered into by two parties or more with the intention of creating a legal obligation, which may have elements in writing. Contracts can be made orally. The remedy for breach of contract can be "damages" or compensation of money. In equity, the remedy can be specific...
s of
employment
Employment
Employment is a contract between two parties, one being the employer and the other being the employee. An employee may be defined as:- Employee :...
) and collective labour law (e.g. cases concerning
strikes
Strike action
Strike action, also called labour strike, on strike, greve , or simply strike, is a work stoppage caused by the mass refusal of employees to work. A strike usually takes place in response to employee grievances. Strikes became important during the industrial revolution, when mass labour became...
and
collective bargaining
Collective bargaining
Collective bargaining is a process of negotiations between employers and the representatives of a unit of employees aimed at reaching agreements that regulate working conditions...
). The court hears cases from the
Landesarbeitsgerichte
(Superior State Labour Courts), which, in turn, are the courts of appeals against decisions of the
Arbeitsgerichte
(Inferior State Labour Courts).
The
Bundesarbeitsgericht
is located in the city of
Erfurt
Erfurt
Erfurt is the capital city of Thuringia and the main city nearest to the geographical centre of Germany, located 100 km SW of Leipzig, 150 km N of Nuremberg and 180 km SE of Hannover. Erfurt Airport can be reached by plane via Munich. It lies in the southern part of the Thuringian...
.
External links