 Farl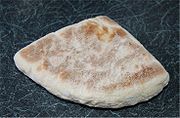 A
farl
is any of various roughly triangular flat breads and cakes, traditionally made by cutting a round into four pieces.
In
Northern Ireland
Northern Ireland
Northern Ireland is one of the four countries of the United Kingdom. Situated in the north-east of the island of Ireland, it shares a border with the Republic of Ireland to the south and west...
, the term generally refers to
soda bread
Soda bread
Soda bread is a variety of quick bread traditionally made in a variety of cuisines in which sodium bicarbonate is used as a raising agent rather than the more common yeast. The ingredients of traditional soda bread are flour, bread soda, salt, and buttermilk...
and potato bread or cakes (potato farls). While soda bread can be made like normal breads, it is made into farls for use in the Ulster fry. A farl is a flat piece of
bread
Bread
Bread is a staple food prepared by cooking a dough of flour and water and often additional ingredients. Doughs are usually baked, but in some cuisines breads are steamed , fried , or baked on an unoiled frying pan . It may be leavened or unleavened...
about 3/4 inch thick with a rough quarter-circle shape.
In Scotland today, the word is used less than in Northern Ireland, but a farl can be a quarter piece of a large flat
scone
Scone (bread)
The scone is a small Scottish quick bread especially popular in the United Kingdom, the United States, Canada, Australia, New Zealand,Belgium and Ireland, but are also eaten in many other countries. They are usually made of wheat, barley or oatmeal, with baking powder as a leavening agent...
,
bannock
Bannock (food)
Bannock is a variety of flat quick bread. The word can also be applied to any large, round article baked or cooked from grain. When a round bannock is cut into wedges, the wedges are often called scones. But in Scotland, the words bannock and scone are often used interchangeably.-Scottish:"Bannock"...
, or
oatcake
Oatcake
An oatcake is a type of cracker or pancake, made from oatmeal, and sometimes flour as well. Oatcakes are cooked on a griddle or baked in an oven.- Scottish oatcakes :...
. It may also be used for
shortbread
Shortbread
Shortbread is a type of unleavened biscuit which is traditionally made from one part white sugar, two parts butter, and three parts oatmeal flour. The use of plain white flour is common today, and other ingredients like ground rice or cornflour are sometimes added to alter the texture...
when baked in this particular shape.
Etymology
The word may be related to
fallaid
Fallaid
Fallaid, in Scotland, was the refuse of meal left on the baking board, after a batch of bread has been baked. It was dry meal, and put on cakes when fired. An interesting custom used to prevail in the Outer Hebrides, where any remains of meal on the board would be made into a cake in the palm of...
in some way. However, the Dictionary of the (Lowland)
Scots
Scots language
Scots is the Germanic language variety spoken in Lowland Scotland and parts of Ulster . It is sometimes called Lowland Scots to distinguish it from Scottish Gaelic, the Celtic language variety spoken in most of the western Highlands and in the Hebrides.Since there are no universally accepted...
Language says that
farl
is a shorter form of
fardel
, the word once used in some parts of Lowland Scotland for "a three-cornered cake, usually
oatcake
Oatcake
An oatcake is a type of cracker or pancake, made from oatmeal, and sometimes flour as well. Oatcakes are cooked on a griddle or baked in an oven.- Scottish oatcakes :...
, generally the fourth part of a round". In Old Lowland Scots
fardell
meant a fourth or quarter.
Dish
A farl is made by spreading the dough on a griddle or skillet in a rough circular shape. The circle is then cut into four equal pieces and cooked. Once one side is done the dough is flipped to cook the other side.
External links