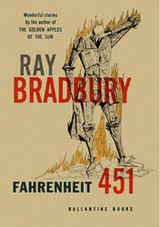 Fahrenheit 451
Fahrenheit 451
is a 1953
dystopia
Dystopia
A dystopia is the idea of a society in a repressive and controlled state, often under the guise of being utopian, as characterized in books like Brave New World and Nineteen Eighty-Four...
n
novel
Novel
A novel is a book of long narrative in literary prose. The genre has historical roots both in the fields of the medieval and early modern romance and in the tradition of the novella. The latter supplied the present generic term in the late 18th century....
by
Ray Bradbury
Ray Bradbury
Ray Douglas Bradbury is an American fantasy, horror, science fiction, and mystery writer. Best known for his dystopian novel Fahrenheit 451 and for the science fiction stories gathered together as The Martian Chronicles and The Illustrated Man , Bradbury is one of the most celebrated among 20th...
. The novel presents a future American society where reading is outlawed and firemen start fires to burn books. Written in the early years of the
Cold War
Cold War
The Cold War was the continuing state from roughly 1946 to 1991 of political conflict, military tension, proxy wars, and economic competition between the Communist World—primarily the Soviet Union and its satellite states and allies—and the powers of the Western world, primarily the United States...
, the novel is a critique of what Bradbury saw as issues in American society of the era.
In 1947, Bradbury wrote a short story titled "Bright Phoenix" (later revised for publication in a 1963 issue of
The Magazine of Fantasy & Science Fiction
The Magazine of Fantasy & Science Fiction
The Magazine of Fantasy & Science Fiction is a digest-size American fantasy and science fiction magazine first published in 1949 by Mystery House and then by Fantasy House. Both were subsidiaries of Lawrence Spivak's Mercury Publications, which took over as publisher in 1958. Spilogale, Inc...
).
It was a pleasure to burn.

I'm seventeen and I'm crazy. My uncle says the two always go together. When people ask your age, he said, always say seventeen and insane.

Monday burn Millay, Wednesday Whitman, Friday Faulkner, burn 'em to ashes, then burn the ashes. That's our official slogan.

"Do you ever read any of the books you burn?" He laughed. "That's against the law!" "Oh. Of course."

You're not like the others. I've seen a few; I know. When I talk, you look at me. When I said something about the moon, you looked at the moon, last night. The others would never do that. The others would walk off and leave me talking. Or threaten me. No one has time any more for anyone else. You're one of the few who put up with me. That's why I think it's so strange you're a fireman, it just doesn't seem right for you, somehow.

I sometimes think drivers don't know what grass is, or flowers, because they never see them slowly. If you showed a driver a green blur, Oh yes! he'd say, that's grass! A pink blur! That's a rose garden! White blurs are houses. Brown blurs are cows. My uncle drove slowly on a highway once. He drove forty miles per hour and they jailed him for two days. Isn't that funny, and sad, too?

"That's sad," said Montag, quietly,(referring to The Hound) "because all we put into it is hunting and finding and killing. What a shame if that's all it can ever know."