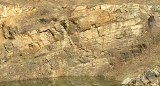 Facies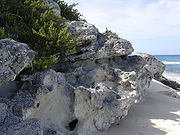 In
geology
Geology
Geology is the science comprising the study of solid Earth, the rocks of which it is composed, and the processes by which it evolves. Geology gives insight into the history of the Earth, as it provides the primary evidence for plate tectonics, the evolutionary history of life, and past climates...
,
facies
are a body of rock with specified characteristics. Ideally, a facies is a distinctive rock unit that forms under certain conditions of sedimentation, reflecting a particular process or environment.
The term
facies
was introduced by the Swiss
geologist
Geologist
A geologist is a scientist who studies the solid and liquid matter that constitutes the Earth as well as the processes and history that has shaped it. Geologists usually engage in studying geology. Geologists, studying more of an applied science than a theoretical one, must approach Geology using...
Amanz Gressly
Amanz Gressly
Amanz Gressly was a Swiss geologist and paleontologist. He introduced the use of the term facies in geology, he is considered one of the founders of modern stratigraphy and paleoecology.-References:...
in 1838 and was part of his significant contribution to the foundations of modern
stratigraphy
Stratigraphy
Stratigraphy, a branch of geology, studies rock layers and layering . It is primarily used in the study of sedimentary and layered volcanic rocks....
, which replaced the earlier notions of
Neptunism
Neptunism
Neptunism is a discredited and obsolete scientific theory of geology proposed by Abraham Gottlob Werner in the late 18th century that proposed rocks formed from the crystallisation of minerals in the early Earth's oceans....
.
Sedimentary facies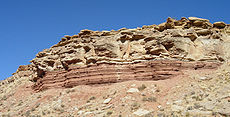 Sedimentary facies are bodies of sediment recognizably different from adjacent sediment deposited in a different depositional environment. Generally, facies are distinguished by what aspect of the rock or sediment is being studied. Thus, facies based on
petrological
Petrology
Petrology is the branch of geology that studies rocks, and the conditions in which rocks form....
characters such as grain size and mineralogy are called
lithofacies
Lithofacies
Lithofacies may refer to:* A mappable subdivision of a designated stratigraphic unit, distinguished from adjacent subdivisions on the basis of lithology; a facies characterized by particular lithologic features....
, whereas facies based on
fossil
Paleontology
Paleontology "old, ancient", ὄν, ὀντ- "being, creature", and λόγος "speech, thought") is the study of prehistoric life. It includes the study of fossils to determine organisms' evolution and interactions with each other and their environments...
content are called
biofacies
.
These facies types are usually further subdivided, for example, you might refer to a "tan, cross-bedded oolitic
limestone
Limestone
Limestone is a sedimentary rock composed largely of the minerals calcite and aragonite, which are different crystal forms of calcium carbonate . Many limestones are composed from skeletal fragments of marine organisms such as coral or foraminifera....
facies" or a "
shale
Shale
Shale is a fine-grained, clastic sedimentary rock composed of mud that is a mix of flakes of clay minerals and tiny fragments of other minerals, especially quartz and calcite. The ratio of clay to other minerals is variable. Shale is characterized by breaks along thin laminae or parallel layering...
facies". The characteristics of the
rock
Rock (geology)
In geology, rock or stone is a naturally occurring solid aggregate of minerals and/or mineraloids.The Earth's outer solid layer, the lithosphere, is made of rock. In general rocks are of three types, namely, igneous, sedimentary, and metamorphic...
unit come from the
depositional environment
Sedimentary depositional environment
In geology, sedimentary depositional environment describes the combination of physical, chemical and biological processes associated with the deposition of a particular type of sediment and, therefore, the rock types that will be formed after lithification, if the sediment is preserved in the rock...
and original composition. Sedimentary facies reflect depositional environment, each facies being a distinct kind of sediment for that area or environment.
Since its inception, the facies concept has been extended to related geological concepts. For example, characteristic associations of organic microfossils, and particulate organic material, in rocks or sediments, are called
palynofacies
Palynofacies
Palynofacies studies examine the preservation of particulate organic matter and palynomorphs to provide information on the depositional environment of sediments and depositional palaeoenvironments of sedimentary rocks. The term Palynofacies was introduced by the French geologist Combaz in 1964...
. Discrete
seismic
Seismology
Seismology is the scientific study of earthquakes and the propagation of elastic waves through the Earth or through other planet-like bodies. The field also includes studies of earthquake effects, such as tsunamis as well as diverse seismic sources such as volcanic, tectonic, oceanic,...
units are similarly referred to as seismic facies.
Metamorphic facies
The sequence of minerals that develop during progressive
metamorphism
Metamorphism
Metamorphism is the solid-state recrystallization of pre-existing rocks due to changes in physical and chemical conditions, primarily heat, pressure, and the introduction of chemically active fluids. Mineralogical, chemical and crystallographic changes can occur during this process...
(that is, metamorphism at progressively higher temperatures and/or pressures) define a
facies series
.
Walther's Law of Facies
Walther's Law of Facies, named after the geologist Johannes Walther, states that the vertical succession of facies reflects lateral changes in environment. Conversely, it states that when a depositional environment "migrates" laterally, sediments of one depositional environment come to lie on top of another. A classic example of this law is the vertical stratigraphic succession that typifies marine
trangressions
Transgression (geology)
A marine transgression is a geologic event during which sea level rises relative to the land and the shoreline moves toward higher ground, resulting in flooding. Transgressions can be caused either by the land sinking or the ocean basins filling with water...
and
regressions
Marine regression
Marine regression is a geological process occurring when areas of submerged seafloor are exposed above the sea level. The opposite event, marine transgression, occurs when flooding from the sea covers previously exposed land....
. However, the law is not applicable where the contact between different lithologies is non-conformable (i.e. sedimentation was not continuous), or in instances of rapid environmental change where non-adjacent environments may replace one another.
See also