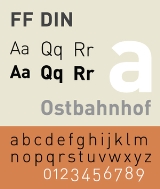 FF DIN
FF DIN
is a realist sans-serif typeface designed in 1995 by
Albert-Jan Pool
Albert-Jan Pool
Albert-Jan Pool is a Dutch professional type designer. He studied at the Royal Academy of Arts in The Hague....
, based on
DIN-Mittelschrift
DIN (typeface)
DIN, an acronym for the German Deutsches Institut für Normung , and the name of an increasingly large realist sans-serif typeface family. In 1936 the German Standard Committee selected DIN 1451 as the standard typeface for use in the areas of engineering, technology, traffic, administration and...
. DIN is an acronym for
Deutsches Institut für Normung
Deutsches Institut für Normung
is the German national organization for standardization and is that country's ISO member body. DIN is a Registered German Association headquartered in Berlin...
(German Institute for Standardisation).
Pool encountered
Erik Spiekermann
Erik Spiekermann
Erik Spiekermann is a German typographer and designer. He is a professor at the University of the Arts Bremen....
at a 1994 meeting of the
ATypI
ATypI
The ATypI or the Association Typographique Internationale is an international non-profit organisation dedicated to typography.-The organisation:...
(Association Typographique Internationale) in San Francisco, who encouraged him to design a revival of
DIN 1451
DIN 1451
DIN 1451 is a realist sans-serif typeface that is widely used for traffic, administration and business applications. It has been defined by the German standards body Deutsches Institut für Normung since 1936.-Overview:...
for release by Spiekermann's foundry
FSI FontShop International
FSI FontShop International
FSI FontShop International is an international manufacturer of digital typefaces , based in Berlin and one of the large type foundries that exist today.All the typefaces are published as part of the FontFont library...
.
Sharing structural similarities with DIN 1451, FF DIN differs in its weight distribution, naming conventions, and has a far wider character set, including ranging (old style) figures, and several refinements allowing it to perform better as a print and screen text face.
The family includes 5 font weights in 2 widths (Normal and Condensed), each with italics. The entire family includes extended characters such as arrows, fractions, Euro sign,
lozenge
Lozenge
A lozenge , often referred to as a diamond, is a form of rhombus. The definition of lozenge is not strictly fixed, and it is sometimes used simply as a synonym for rhombus. Most often, though, lozenge refers to a thin rhombus—a rhombus with acute angles of 45°...
, mathematic symbols, extra accented Latin letters, superscript numeral figures. Alternate glyphs are also included, such as rounded dots, old style figures, and alternate cedilla for instance.
FF DIN Round
In summer 2010 FSI FontShop International introduced a completely new drawn round version called FF DIN Round, including 5 weights (Light, Regular, Medium, Bold, Black).
Usages
FF DIN's usage is currently growing. FF DIN is the central typeface of JetBlue Airways' and the
Los Angeles County Metropolitan Transportation Authority
Los Angeles County Metropolitan Transportation Authority
The Los Angeles County Metropolitan Transportation Authority is the California state-chartered regional transportation planning agency and public transportation operating agency for the County of Los Angeles formed in 1993 out of a merger of the Southern California Rapid Transit District and the...
's corporate identity. FF DIN is also
Adidas
Adidas
Adidas AG is a German sports apparel manufacturer and parent company of the Adidas Group, which consists of the Reebok sportswear company, TaylorMade-Adidas golf company , and Rockport...
's main typeface, adopted after switching from "Adihaus". This font is used in many areas, especially in prints, ads and webpages.
American Eagle Outfitters
American Eagle Outfitters
American Eagle Outfitters is an American clothing and accessories retailer based in Pittsburgh, Pennsylvania. It was founded in 1977 by Mark and Jerry Silverman as a subsidiary of Retail Ventures, Inc., a company which also owned and operated Silverman's Menswear...
uses FF DIN as its main sans-serif typeface, for both marketing and branding.
ABC
American Broadcasting Company
The American Broadcasting Company is an American commercial broadcasting television network. Created in 1943 from the former NBC Blue radio network, ABC is owned by The Walt Disney Company and is part of Disney-ABC Television Group. Its first broadcast on television was in 1948...
's
World News with Charles Gibson
World News with Charles Gibson
ABC World News is the flagship daily evening program of ABC News, the news division of the American Broadcasting Company television network in the United States. Currently, the weekday editions are anchored by Diane Sawyer and the weekend editions are anchored by David Muir. The program has been...
uses the font for its lower third graphics. The
University of Canberra
University of Canberra
Over the years the Stone Day program has gradually become larger and larger, taking up a whole week and now Stonefest is one of Australia's most popular music festivals. The first foundation celebrations were held in 1971. In 1973 Stone Day celebrations were held over two days, which was expanded...
uses it for all official publications. The
Canadian Broadcasting Corporation
Canadian Broadcasting Corporation
The Canadian Broadcasting Corporation, commonly known as CBC and officially as CBC/Radio-Canada, is a Canadian crown corporation that serves as the national public radio and television broadcaster...
also makes heavy usage for its corporate identity needs.
This typeface was the official video credit font from 2005 to September 2007 on
MTV Latin America
MTV Latin America
MTV Latin America is a cable television specialty service aimed at residents in Hispanic American countries. It was launched on October 1, 1993 as MTV en Español. The channel is a Hispanic American version from MTV...
.
It is also used in the Australian Office of Film and Literature Classification for their rating system.
The
ACLU
American Civil Liberties Union
The American Civil Liberties Union is a U.S. non-profit organization whose stated mission is "to defend and preserve the individual rights and liberties guaranteed to every person in this country by the Constitution and laws of the United States." It works through litigation, legislation, and...
identity includes the use of FF DIN Regular and, secondarily, FF DIN Bold.
Valve Corporation
Valve Corporation
Valve Corporation is an American video game development and digital distribution company based in Bellevue, Washington, United States...
use FF DIN as the standard typeface on their websites, as well as on the video game
Portal 2
Portal 2
Portal 2 is a first-person puzzle-platform video game developed and published by Valve Corporation. The sequel to the 2007 video game Portal, it was announced on March 5, 2010, following a week-long alternate reality game based on new patches to the original game...
.
External links