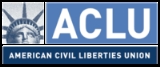 American Civil Liberties Union
The
American Civil Liberties Union
(
ACLU
) is a U.S.
non-profit organization
Non-profit organization
Nonprofit organization is neither a legal nor technical definition but generally refers to an organization that uses surplus revenues to achieve its goals, rather than distributing them as profit or dividends...
whose stated mission is "to defend and preserve the individual rights and liberties guaranteed to every person in this country by the
Constitution
United States Constitution
The Constitution of the United States is the supreme law of the United States of America. It is the framework for the organization of the United States government and for the relationship of the federal government with the states, citizens, and all people within the United States.The first three...
and laws of the United States." (
see also civil liberties

Civil liberties

Civil liberties are rights and freedoms that provide an individual specific rights such as the freedom from slavery and forced labour, freedom from torture and death, the right to liberty and security, right to a fair trial, the right to defend one's self, the right to own and bear arms, the right...



)
It works through litigation, legislation, and community education. The ACLU consists of two separate non-profits: the ACLU Foundation, a 501(c)(3) organization which focuses on litigation and communication efforts, and the American Civil Liberties Union, a 501(c)(4) organization which focuses on legislative
lobbying
Lobbying
Lobbying is the act of attempting to influence decisions made by officials in the government, most often legislators or members of regulatory agencies. Lobbying is done by various people or groups, from private-sector individuals or corporations, fellow legislators or government officials, or...
.
The ACLU has stood foursquare against the recurring tides of hysteria that from time to time threaten freedoms everywhere.

Earl Warren|Chief Justice Earl Warren
America needs a civil liberties union. It no longer has one. I still make my contribution because the ACLU still does some good, but if things don't change, it could become an enemy of free speech.

Professor Alan Dershowitz|Alan Dershowitz, 25-year ACLU member
I'm glad the ACLU raises the objections it does, because it forces the government and Congress to be mindful of First Amendment rights.

U.S. Representative Henry Hyde|Henry Hyde (R-Illinois), 2003
Finally, the ACLU -- we talked about this yesterday and I -- and, you know, I have to pick on the ACLU because they're the most dangerous organization in the United States of America right now. There's by far. There's nobody even close to that. They're, like, second next to Al Qaeda|Al Qaeda.

Bill O'Reilly (commentator)|Bill O'Reilly on 2 June 2004
[The ACLU is] thew worst vermin America ha ever tolerated. The worst vermin in America are the vermin in the ACLU.

Michael Savage