 Eugène Delaplanche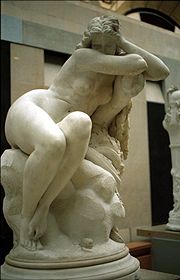 Eugène Delaplanche
was a
French
French people
The French are a nation that share a common French culture and speak the French language as a mother tongue. Historically, the French population are descended from peoples of Celtic, Latin and Germanic origin, and are today a mixture of several ethnic groups...
sculptor, born at Belleville (Seine).
Life
He was a pupil of
Duret
Francisque Joseph Duret
Francisque Joseph Duret was a French sculptor, son and pupil of François-Joseph Duret .He also studied under Bosio, and won the Prix de Rome in 1823. In 1833 he exhibited his "Neapolitan Fisher Dancing the Tarantella", now in the Louvre, a spirited statue in bronze, which established his reputation...
, gained the
Prix de Rome
Prix de Rome
The Prix de Rome was a scholarship for arts students, principally of painting, sculpture, and architecture. It was created, initially for painters and sculptors, in 1663 in France during the reign of Louis XIV. It was an annual bursary for promising artists having proved their talents by...
in 1864 (spending 1864-67 at the
Villa Medici
Villa Medici
The Villa Medici is a mannerist villa and an architectural complex with a garden contiguous with the larger Borghese gardens, on the Pincian Hill next to Trinità dei Monti in Rome, Italy. The Villa Medici, founded by Ferdinando I de' Medici, Grand Duke of Tuscany and now property of the French...
in Rome), and the medal of honor in 1878. His
"Messenger of Love"
(1874),
"Aurora"
(1878), and the
"Virgin of the Lillies"
(1884), are in the
Luxembourg
National Museum of History and Art
The National Museum of History and Art , abbreviated to MNHA, is a museum located in Luxembourg City, in southern Luxembourg. It is dedicated to displaying artworks and artefacts from all epochs of Luxembourgian history...
. Other works by him are
"Music"
(1878, Paris Opera House), called his masterpiece;
"Eve After the Fall"
(1869);
"Maternal Instruction"
(1875, Square of Sainte-Clothilde, Paris); and the statues of
"Security"
and
"Commerce"
(1884) in the Hôtel de Ville, Paris (replicas in the Chicago Art Institute). He is also noted for his decorations in relief on vases of
Haviland faience
Faience
Faience or faïence is the conventional name in English for fine tin-glazed pottery on a delicate pale buff earthenware body, originally associated with Faenza in northern Italy. The invention of a white pottery glaze suitable for painted decoration, by the addition of an oxide of tin to the slip...
. His best work is naturalistic, but at the same time dignified and simple in line, and shows sound mastery of technique. He is represented by 15 works in the
Glyptothek, Copenhagen
Ny Carlsberg Glyptotek
The Ny Carlsberg Glyptotek is an art museum in Copenhagen, Denmark...
, and in many other French museums and in churches.
Works in museums
Musée d'Orsay

Musée d'Orsay

The Musée d'Orsay is a museum in Paris, France, on the left bank of the Seine. It is housed in the former Gare d'Orsay, an impressive Beaux-Arts railway station built between 1898 and 1900. The museum holds mainly French art dating from 1848 to 1915, including paintings, sculptures, furniture,...


, Paris

Virgin with a lily, marble
Africa, 1878, bronze, on the parvis of the museum
Eve before the Fall, 1869, marble
Eve after the Fall, c. 1891, marble

Child riding a tortoise, 1866, bronze, Marseille

Marseille

Marseille , known in antiquity as Massalia , is the second largest city in France, after Paris, with a population of 852,395 within its administrative limits on a land area of . The urban area of Marseille extends beyond the city limits with a population of over 1,420,000 on an area of...


, Musée des Beaux-Arts
Allegory of Air, bronze, Compiègne

Compiègne

Compiègne is a city in northern France. It is designated municipally as a commune within the département of Oise.The city is located along the Oise River...


, Musée Antoine Vivenel
Allegory of Water, bronze, Compiègne, Musée Antoine Vivenel
Study of a monk's head, c. 1870, marble, Le Puy-en-Velay

Le Puy-en-Velay

Le Puy-en-Velay is a commune in the Haute-Loire department in south-central France.Its inhabitants are called Ponots.-History:Le Puy-en-Velay was a major bishopric in medieval France, founded early, though its early history is legendary...


, Musée Crozatier
Saint Agnes, 1873, Église Sainte-Croix, Paulhan

Paulhan

Paulhan is a commune in the Hérault department in Languedoc-Roussillon in southern France....


in Hérault

Hérault

Hérault is a department in the south of France named after the Hérault river.-History:Hérault is one of the original 83 departments created during the French Revolution on 4 March 1790...



Maternal education, 1875, square Samuel-Rousseau, 7th arrondissement, Paris.
Sources