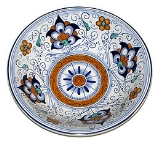 Faience
For the architectural material, see Glazed architectural terra-cotta

Glazed architectural terra-cotta

Glazed architectural terra-cotta is a ceramic masonry building material popular in the United States from the late 19th century until the 1930s, and still one of the most common building materials found in U.S. urban environments...


. For the ceramics of Ancient Egypt and the Indus Valley, see Egyptian faience

Egyptian faience

Egyptian faience is a non-clay based ceramic displaying surface vitrification which creates a bright lustre of various blue-green colours. Having not been made from clay it is often not classed as pottery. It is called "Egyptian faience" to distinguish it from faience, the tin glazed pottery...



Faience
or
faïence
(faɪˈɒ̃s or feɪˈɑːns, fajɑ̃s) is the conventional name in
English
English language
English is a West Germanic language that arose in the Anglo-Saxon kingdoms of England and spread into what was to become south-east Scotland under the influence of the Anglian medieval kingdom of Northumbria...
for fine
tin-glazed pottery
Tin-glazed pottery
Tin-glazed pottery is a majolica pottery covered in glaze containing tin oxide which is white, shiny and opaque. The pottery body is usually made of red or buff colored earthenware and the white glaze was often used to imitate Chinese porcelain...
on a delicate pale buff
earthenware
Earthenware
Earthenware is a common ceramic material, which is used extensively for pottery tableware and decorative objects.-Types of earthenware:Although body formulations vary between countries and even between individual makers, a generic composition is 25% ball clay, 28% kaolin, 32% quartz, and 15%...
body, originally associated with
Faenza
Faenza
Faenza is an Italian city and comune, in the province of Ravenna, Emilia-Romagna, situated 50 km southeast of Bologna.Faenza is noted for its manufacture of majolica ware glazed earthenware pottery, known from the name of the town as "faience"....
in northern Italy. The invention of a white pottery glaze suitable for painted decoration, by the addition of an oxide of tin to the slip of a lead glaze, was a major advance in the history of
pottery
Pottery
Pottery is the material from which the potteryware is made, of which major types include earthenware, stoneware and porcelain. The place where such wares are made is also called a pottery . Pottery also refers to the art or craft of the potter or the manufacture of pottery...
.