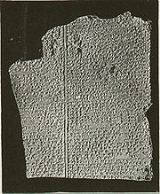 Epic of Gilgamesh
Epic of Gilgamesh
is an
epic poem
Epic poetry
An epic is a lengthy narrative poem, ordinarily concerning a serious subject containing details of heroic deeds and events significant to a culture or nation. Oral poetry may qualify as an epic, and Albert Lord and Milman Parry have argued that classical epics were fundamentally an oral poetic form...
from
Mesopotamia
Mesopotamia
Mesopotamia is a toponym for the area of the Tigris–Euphrates river system, largely corresponding to modern-day Iraq, northeastern Syria, southeastern Turkey and southwestern Iran.Widely considered to be the cradle of civilization, Bronze Age Mesopotamia included Sumer and the...
and is among the
earliest known works of literature
Ancient literature
The history of literature begins with the history of writing, in Bronze Age Mesopotamia and Ancient Egypt.Writing develops out of proto-literate sign systems by the 30th century BC, although the oldest literary texts that have come down to us are several centuries younger, dating to the 27th or...
. Scholars believe that it originated as a series of
Sumer
Sumer
Sumer was a civilization and historical region in southern Mesopotamia, modern Iraq during the Chalcolithic and Early Bronze Age....
ian legends and poems about the protagonist of the story,
Gilgamesh
Gilgamesh
Gilgamesh was the fifth king of Uruk, modern day Iraq , placing his reign ca. 2500 BC. According to the Sumerian king list he reigned for 126 years. In the Tummal Inscription, Gilgamesh, and his son Urlugal, rebuilt the sanctuary of the goddess Ninlil, in Tummal, a sacred quarter in her city of...
king of
Uruk
Uruk
Uruk was an ancient city of Sumer and later Babylonia, situated east of the present bed of the Euphrates river, on the ancient dry former channel of the Euphrates River, some 30 km east of modern As-Samawah, Al-Muthannā, Iraq.Uruk gave its name to the Uruk...
, which were fashioned into a longer
Akkadian
Akkadian language
Akkadian is an extinct Semitic language that was spoken in ancient Mesopotamia. The earliest attested Semitic language, it used the cuneiform writing system derived ultimately from ancient Sumerian, an unrelated language isolate...
epic much later. The most complete version existing today is preserved on 12 clay tablets from the
library collection
Library of Ashurbanipal
-External links:. In our time discussion programme. 45 minutes....
of 7th-century BC
Assyria
Assyria
Assyria was a Semitic Akkadian kingdom, extant as a nation state from the mid–23rd century BC to 608 BC centred on the Upper Tigris river, in northern Mesopotamia , that came to rule regional empires a number of times through history. It was named for its original capital, the ancient city of Assur...
n king
Ashurbanipal
Ashurbanipal
Ashurbanipal |Ashur]] is creator of an heir"; 685 BC – c. 627 BC), also spelled Assurbanipal or Ashshurbanipal, was an Assyrian king, the son of Esarhaddon and the last great king of the Neo-Assyrian Empire...
. The epic was originally titled in Akkadian
Sha naqba īmuru
("He who Saw the Deep") or
Shūtur eli sharrī
("Surpassing All Other Kings"), the
opening words
Incipit
Incipit is a Latin word meaning "it begins". The incipit of a text, such as a poem, song, or book, is the first few words of its opening line. In music, it can also refer to the opening notes of a composition. Before the development of titles, texts were often referred to by their incipits...
in different versions.
The story revolves around a relationship between Gilgamesh and his close male companion,
Enkidu
Enkidu
Enkidu is a central figure in the Ancient Mesopotamian Epic of Gilgamesh. Enkidu was first created by Anu, the sky god, to rid Gilgamesh of his arrogance. In the story he is a wild-man raised by animals and ignorant of human society until he is bedded by Shamhat...
.