 Ephraim Chambers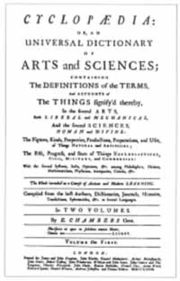 Ephraim Chambers
was an English writer and encyclopaedist, who is primarily known for producing the Cyclopaedia, or a Universal Dictionary of Arts and Sciences.
Early life
Chambers was born in
Kendal
Kendal
Kendal, anciently known as Kirkby in Kendal or Kirkby Kendal, is a market town and civil parish within the South Lakeland District of Cumbria, England...
,
Westmorland
Westmorland
Westmorland is an area of North West England and one of the 39 historic counties of England. It formed an administrative county from 1889 to 1974, after which the entirety of the county was absorbed into the new county of Cumbria.-Early history:...
, England, and attended Heversham Grammar School there. Little is known of his early life, other than that he was apprenticed to a
globe
Globe
A globe is a three-dimensional scale model of Earth or other spheroid celestial body such as a planet, star, or moon...
-maker,
John Senex
John Senex
John Senex was an English cartographer, engraver and explorer.He was also an astrologer, geologist to Queen Anne of Great Britain, editor and seller of antique maps and most importantly creator of the pocket-size map of the world.He was in particular, one of the principal cartographers of the 18th...
, in London from 1714-1721. It was here that he developed the plan of the
Cyclopaedia, or an Universal Dictionary of Arts and Sciences
. After beginning the Cyclopaedia, he left Senex's service and devoted himself entirely to the encyclopedia project. He also took lodging in
Gray's Inn
Gray's Inn
The Honourable Society of Gray's Inn, commonly known as Gray's Inn, is one of the four Inns of Court in London. To be called to the Bar and practise as a barrister in England and Wales, an individual must belong to one of these Inns...
, where he remained for the rest of his life.
Other writing
In addition to the
Cyclopaedia
, Chambers wrote for and possibly edited the
Literary Magazine
Literary magazine
A literary magazine is a periodical devoted to literature in a broad sense. Literary magazines usually publish short stories, poetry and essays along with literary criticism, book reviews, biographical profiles of authors, interviews and letters...
(1735–1736), which mainly published book reviews. Chambers worked on translating other works in French on perspective and chemistry from 1726 to 1727, including the
Practice of Perspective from the French of Jean Dubreuil
. He also worked with
John Martyn
John Martyn (botanist)
John Martyn or Joannis Martyn was an English botanist.Martyn's is best known for his Historia Plantarum Rariorum , and his translation, with valuable agricultural and botanical notes, of the Eclogues and Georgics of Virgil...
to translate the
History and Memoirs of the Royal Academy of Sciences at Paris
(1742) (Espinasse 2004, Britannica 1911).
Epitaph
Chambers died on 15 May 1740. He was buried in the cloisters of
Westminster Abbey
Westminster Abbey
The Collegiate Church of St Peter at Westminster, popularly known as Westminster Abbey, is a large, mainly Gothic church, in the City of Westminster, London, United Kingdom, located just to the west of the Palace of Westminster. It is the traditional place of coronation and burial site for English,...
(Espinasse 2004). His epitaph was published in both the original Latin and in English in the
Gentleman's Magazine
, volume 10, as follows (translation is the original):
"Multis pervulgatus
paucis notus
Qui vitam inter lucem et umbram
Nec eruditus nec idiota
Literis deditus transegit, sed ut homo
Qui humani nihil a se alienum putat
Vita simul et laboribus functus
Hic requiescere voluit
EPHRAIM CHAMBERS.
In English thus:
"Heard of by many,
Known to few,
Who led a Life between Fame and Obscurity
Neither abounding nor deficient in Learning
Devoted to Study, but as a Man
Who thinks himself bound to all Offices of Humanity,
Having finished his Life and Labours together,
Here desires to rest
EPHRAIM CHAMBERS."
External links