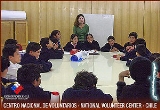 English Opens Doors
English Opens Doors
, or
Inglés Abre Puertas
in Spanish language, is an initiative of the
Chile
Chile
Chile ,officially the Republic of Chile , is a country in South America occupying a long, narrow coastal strip between the Andes mountains to the east and the Pacific Ocean to the west. It borders Peru to the north, Bolivia to the northeast, Argentina to the east, and the Drake Passage in the far...
an Ministry of Education (MINEDUC) to apply technical expertise and improve English as a Foreign Language (EFL) teaching, making it more accessible to all Chileans. The English Opens Doors program was launched in 2003 and was supported by former President
Michelle Bachelet
Michelle Bachelet
Verónica Michelle Bachelet Jeria is a Social Democrat politician who was President of Chile from 11 March 2006 to 11 March 2010. She was the first woman president of her country...
and Minister of Education
Mónica Jiménez
Mónica Jiménez
Mónica Eliana Jiménez de la Jara is a Chilean Christian Democrat politician and former Minister of Education.Jiménez comes from a very political family. Her father Oscar Jiménez Pinochet was Minister of Health under President Salvador Allende, while her brother Jorge occupied the same position...
.
National Volunteer Center
Sponsored by the United Nations Development Program and the Chilean Ministry of Education, English Opens Doors (EOD) seeks highly motivated individuals to work as English teaching assistants in public and semi-private schools throughout Chile. Full-time Volunteers devote 25 hours each week to in-classroom teaching and an additional 10 to designing or supporting extracurricular activities.
Part-time volunteers spend between 12 and 16 hours each week assisting their co-teacher with listening and speaking activities and facilitating cultural exchange. The initiative allows participants to make a difference while becoming more intimately involved with the communities in which they live while building important cross-cultural communication skills.
In 2009 the National Volunteer Center launched a program focused on a creating a network of ex-volunteers. This program, the Ambassador Program, is designed to raise the profile of the English Opens Doors Program in English speaking countries around the world.
English Summer and Winter Camps
Total Immersion English camps take place during student' summer and winter vacations. Camps are designed to give talented Chilean public high school students the chance to practice English in a more hands on way through interactive activities including role-playing exercises, field trips, group projects, and competitive games.
English Debate and Public Speaking Competitions
Each year, the English Opens Doors Program sponsors debate competitions for high school students and public speaking competitions for elementary school students. In both cases, students are expected to prepare and present material entirely in English and to compete at local and regional events in order to advance to the national finals, held in
Santiago, Chile
Santiago, Chile
Santiago , also known as Santiago de Chile, is the capital and largest city of Chile, and the center of its largest conurbation . It is located in the country's central valley, at an elevation of above mean sea level...
. In 2008, Colegio Santa Emilia from
Antofagasta
Antofagasta
Antofagasta is a port city in northern Chile, about north of Santiago. It is the capital of Antofagasta Province and Antofagasta Region. According to the 2002 census, the city has a population of 296,905...
won first place in the national debate tournament. Fernanda Gallardo from Colegio Ramón Barros Luco brought home first prize in Public Speaking.
Scholarships
In 2006, President Bachelet officially announced a government-funded scholarship for undergraduates pursuing an EFL teaching degree at private and public accredited Chilean universities. This scholarship has now been incorporated into Sistema Bicentenario BECAS Chile. The main objective is the creation of a long-term, comprehensive policy for professional and academic development abroad. The scholarship enables Chilean undergraduates in their penultimate year of university to improve their English-language skills and become familiar with a foreign culture. It is the only scholarship the Chilean government grants to undergraduate students and is designed to provide Chilean schools with high-quality professionals, thereby improving English-language education.
The destination country must be one in which English is either an official language or is used widely enough that the Chilean student will be experiencing total immersion. All scholarship applicants undergo a rigorous selection process that includes taking an English-language proficiency test such as the TOEFL or IELTS.
Professional development for EFL teachers
In order to improve the level of English-language learning among elementary and high school students, the English Opens Doors Program has developed several strategies to provide EFL teachers in public schools with more professional development opportunities, helping them to improve their English-language fluency and teaching practices:
English language and methodology courses.
Local teachers´ networks where peers form communities of collaboration.
Face-to-face and online English courses for teachers in isolated, rural areas as well as for teachers in vocational training centers and professional schools.
District-level workshops to develop specific projects.
Mentor training in which master teachers coach novice teachers.
A "teaching excellence" bonus awarded to outstanding EFL teachers who voluntarily undergo a rigorous evaluation process.
Special training seminars in Europe for EFL teachers and municipal authorities.
Scholarships for study abroad.
English Summer Town and English Winter Retreat. These are annual total immersion seminars where foreign professionals share their expertise with EFL teachers.
Mandarin Chinese teaching program
For countries that have economic ties to China the importance of the use of the Mandarin Chinese language is growing everyday. The free-trade treaty between China and Chile has established connections between universities and educational institutions for the development of exchanges and cooperation between both countries. In 2005, the Ministry of Education developed a program that allows educators to incorporate Mandarin Chinese into the curriculum. Native Chinese speaking trained teachers spend up to two years at a public or semi-private Chilean school teaching Mandarin Chinese as a foreign language and developing initiatives such as Mandarin Chinese dialogues and immersion camps.
External links