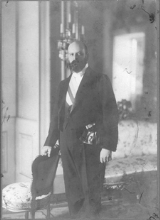 Emiliano Figueroa
Emiliano Figueroa Larraín
(July 12, 1866 - May 15, 1931) was
President of Chile
President of Chile
The President of the Republic of Chile is both the head of state and the head of government of the Republic of Chile. The President is responsible of the government and state administration...
from December 23, 1925 until his resignation on May 10, 1927. He also served as Acting president for a few months on 1910.
Biography
Figueroa was born on July 12, 1866 in
Santiago
Santiago, Chile
Santiago , also known as Santiago de Chile, is the capital and largest city of Chile, and the center of its largest conurbation . It is located in the country's central valley, at an elevation of above mean sea level...
, son of Francisco de Paula Figueroa Araoz and of Rosalía Larraín Echeverría. He studied in the San Ignacio School and then went on to study law at the State University. He graduated in 1889 and that same year was named secretary to the Intendant of Santiago.
Figueroa decided to embark on a political career and joined the
Liberal Democratic Party
Liberal Democratic Party (Chile)
The Liberal Democratic Party is the name of two Chilean liberal political parties. The first one, formed by Benjamín Vicuña Mackenna, lasted very little and the second one called also balmacedist was one of the impellers of the Chilean parliamentary system from 1891 to 1925.-Vicuña Mackenna's...
, which supported a stronger executive. He was elected
deputy
Chamber of Deputies
Chamber of deputies is the name given to a legislative body such as the lower house of a bicameral legislature, or can refer to a unicameral legislature.-Description:...
for Victoria and Melipilla in 1900 and reelected in 1903. In 1907, once his term had ended, he was selected to replace Juan José Valenzuela, deputy for Rere and Puchacay, who had died in July that year. In 1909, Figueroa was once again elected to the Chamber of Deputies, this time representing Itata.
On October 25, 1907, President
Pedro Montt
Pedro Montt
Pedro Elías Pablo Montt Montt was a Chilean political figure. He served as the president of Chile from 1906 to his death from a probable stroke in 1910...
named Figueroa Minister of Justice, a position which he kept until September 15, 1909. President Montt died on August 16, 1910 and was replaced by his Minister of Interior,
Elías Fernández
Elías Fernández
Elías Fernández y Albano was a Chilean politician, who was acting president of Chile from August 6, 1910 until his death....
, who became acting president. Fernández named Figueroa Minister of Interior but died on September 6 that very year. Figueroa then replaced Fernández as acting president and stayed in that position until December 23, when
Ramón Barros Luco
Ramón Barros Luco
Ramón Barros Luco was President of Chile between 1910 and 1915.Barros Luco was born in 1835 in Santiago, Barros Luco was son of Ramón Luis Barros Fernández and Dolores Luco Fernández de Leiva. He graduated from Law School in 1858...
was inaugurated as President.
Barros named Figueroa to the post of ambassador to Spain in 1911, and in 1914 became ambassador to Argentina. Figueroa was considered a harmless politician and the three major political parties in Chile,
Conservative
Conservative Party (Chile)
The Conservative Party of Chile was one of the principal Chilean political parties since its foundation in 1836 until 1949, when it broke apart. In 1953 it reformed as the United Conservative Party and in 1966 joined with the Liberal Party to form the National Party...
,
Liberal
Liberal Party (Chile)
The Liberal Party of Chile was a Chilean political party created by a faction of pipiolos in 1849. After the conservative victory in the Chilean Civil War of 1829 the liberals became the principal opposition party to the Conservative Party...
, and
Radical
Radical Party (Chile)
The Radical Party of Chile was a Chilean political party. It was formed in 1863 by a split in the Liberal Party. Not coincidently, it was formed shortly after the organization of the Grand Lodge of Chile, and it has maintained a close relationship with Chilean Freemasonry throughout its life...
, chose him as a consensus candidate for the
1925 Chilean presidential election
Chilean presidential election, 1925
A presidential election was held in Chile on October 24, 1925. It was the first direct election of a President in the country's history, as mandated by the 1925 Constitution, promulgated on September 18 of that year. Presidents were previously elected by a group of directly elected...
. The purpose of having a single candidate was to avoid political campaigning in the volatile political situation the country was in. Nevertheless, leftist José Santos Salas ignored the three parties' agreement and declared his candidacy, backed by the Social Republican Worker's Union.
Figueroa easily defeated Salas and became president on 23 December 1925. Figueroa kept the ambitious General Carlos Ibáñez as Minister of War, and later named him Minister of the Interior. In 1927, Ibáñez ordered the arrest of Figueroa's brother
Javier Ángel
Javier Ángel Figueroa
Javier Ángel Figueroa was a Chilean lawyer and politician....
, President of the Supreme Court. Unable to withstand the political pressure, Figueroa resigned and Ibáñez became acting president. After winning the presidential election that year with 98% of the vote, Ibáñez became President and wielded dictatorial powers.
Ibáñez named Figueroa ambassador to
Peru
Peru
Peru , officially the Republic of Peru , is a country in western South America. It is bordered on the north by Ecuador and Colombia, on the east by Brazil, on the southeast by Bolivia, on the south by Chile, and on the west by the Pacific Ocean....
in 1928. Upon his return, Figueroa became president of the Central Bank. He died in an accident on May 15, 1931.
Sources
San Francisco, Alejandro, and Ángel Soto, eds. Camino a La Moneda. Santiago: Centro De Estudios Bicentenario, 2005.
Collier, Simon, and William F. Sater. A History of Chile, 1808-2002. 2nd ed. Cambridge UP, 2002.