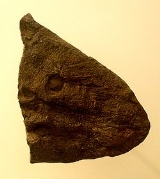 Elpistostege
Elpistostege
is an extinct genus of
tetrapod
Tetrapod
Tetrapods are vertebrate animals having four limbs. Amphibians, reptiles, birds and mammals are all tetrapods; even snakes and other limbless reptiles and amphibians are tetrapods by descent. The earliest tetrapods evolved from the lobe-finned fishes in the Devonian...
-like
fish
Fish
Fish are a paraphyletic group of organisms that consist of all gill-bearing aquatic vertebrate animals that lack limbs with digits. Included in this definition are the living hagfish, lampreys, and cartilaginous and bony fish, as well as various extinct related groups...
that lived in the Late Devonian period (Late Givetian to Early
Frasnian
Frasnian
The Frasnian is one of two faunal stages in the Late Devonian epoch. It lasted from 385.3 ± 2.6 million years ago to 374.5 ± 2.6 million years ago. It was preceded by the Givetian stage and followed by the Famennian stage...
). Fossils of skull and a part of the
backbone
Vertebral column
In human anatomy, the vertebral column is a column usually consisting of 24 articulating vertebrae, and 9 fused vertebrae in the sacrum and the coccyx. It is situated in the dorsal aspect of the torso, separated by intervertebral discs...
have been found at Escuminac Formation in
Quebec
Quebec
Quebec or is a province in east-central Canada. It is the only Canadian province with a predominantly French-speaking population and the only one whose sole official language is French at the provincial level....
,
Canada
Canada
Canada is a North American country consisting of ten provinces and three territories. Located in the northern part of the continent, it extends from the Atlantic Ocean in the east to the Pacific Ocean in the west, and northward into the Arctic Ocean...
.
External links