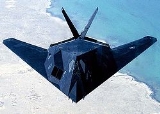 Elevon
Elevons
are
aircraft
Aircraft
An aircraft is a vehicle that is able to fly by gaining support from the air, or, in general, the atmosphere of a planet. An aircraft counters the force of gravity by using either static lift or by using the dynamic lift of an airfoil, or in a few cases the downward thrust from jet engines.Although...
control surfaces that combine the functions of the
elevator
Elevator (aircraft)
Elevators are flight control surfaces, usually at the rear of an aircraft, which control the aircraft's orientation by changing the pitch of the aircraft, and so also the angle of attack of the wing. In simplified terms, they make the aircraft nose-up or nose-down...
(used for pitch control) and the
aileron
Aileron
Ailerons are hinged flight control surfaces attached to the trailing edge of the wing of a fixed-wing aircraft. The ailerons are used to control the aircraft in roll, which results in a change in heading due to the tilting of the lift vector...
(used for roll control), hence the name. They are frequently used on tailless aircraft such as
flying wing
Flying wing
A flying wing is a tailless fixed-wing aircraft which has no definite fuselage, with most of the crew, payload and equipment being housed inside the main wing structure....
s. An elevon that is not part of the main wing, but instead is a separate tail surface, is a
stabilator
Stabilator
A stabilator is an aircraft control surface that combines the functions of an elevator and a horizontal stabilizer...
. The word "elevon" is a portmanteau of
elev
ator and ailer
on
.
Elevons are installed on each side of the aircraft at the trailing edge of the wing. When moved in the same direction (up or down) they will cause a pitching force (nose up or nose down) to be applied to the airframe. When moved differentially, (one up, one down) they will cause a rolling force to be applied. These forces may be applied simultaneously by appropriate positioning of the elevons e.g. one wing's elevons completely down and the other wing's elevons partly down.
An aircraft with elevons is controlled as though the pilot still has separate aileron and elevator surfaces at his disposal, controlled by the yoke or stick. The inputs of the two controls are mixed either mechanically or electronically to provide the appropriate position for each elevon.
They were also used on the
Concorde
Concorde
Aérospatiale-BAC Concorde was a turbojet-powered supersonic passenger airliner, a supersonic transport . It was a product of an Anglo-French government treaty, combining the manufacturing efforts of Aérospatiale and the British Aircraft Corporation...
.
Research
Several technology research and development efforts exist to integrate the functions of aircraft flight control systems such as ailerons, elevators, elevons and
flap
Flap (aircraft)
Flaps are normally hinged surfaces mounted on the trailing edges of the wings of a fixed-wing aircraft to reduce the speed an aircraft can be safely flown at and to increase the angle of descent for landing without increasing air speed. They shorten takeoff and landing distances as well as...
s into wings to perform the aerodynamic purpose with the advantages of less: mass, cost, drag,
inertia
Inertia
Inertia is the resistance of any physical object to a change in its state of motion or rest, or the tendency of an object to resist any change in its motion. It is proportional to an object's mass. The principle of inertia is one of the fundamental principles of classical physics which are used to...
(for faster, stronger control response), complexity (mechanically simpler, fewer moving parts or surfaces, less maintenance), and
radar cross section
Radar cross section
Radar cross section is a measure of how detectable an object is with a radar. A larger RCS indicates that an object is more easily detected.An object reflects a limited amount of radar energy...
for
stealth
Stealth technology
Stealth technology also termed LO technology is a sub-discipline of military tactics and passive electronic countermeasures, which cover a range of techniques used with personnel, aircraft, ships, submarines, and missiles, to make them less visible to radar, infrared, sonar and other detection...
. These may be used in many
unmanned aerial vehicle
Unmanned aerial vehicle
An unmanned aerial vehicle , also known as a unmanned aircraft system , remotely piloted aircraft or unmanned aircraft, is a machine which functions either by the remote control of a navigator or pilot or autonomously, that is, as a self-directing entity...
s (UAVs) and 6th generation
fighter aircraft
Fighter aircraft
A fighter aircraft is a military aircraft designed primarily for air-to-air combat with other aircraft, as opposed to a bomber, which is designed primarily to attack ground targets...
. Two promising approaches are flexible wings, and fluidics.
In flexible wings, much or all of a wing surface can change shape in flight to deflect air flow. The X-53 Active Aeroelastic Wing is a
NASA
NASA
The National Aeronautics and Space Administration is the agency of the United States government that is responsible for the nation's civilian space program and for aeronautics and aerospace research...
effort. The
Adaptive Compliant Wing
Adaptive Compliant Wing
The Adaptive Compliant Wing is a wing design developed by FlexSys, Inc., which is flexible so that aspects of its shape can be changed in flight....
is a military and commercial effort.
In
fluidics
Fluidics
Fluidics or Fluidic logic is the use of a fluid to perform analog or digital operations similar to those performed with electronics.The physical basis of fluidics is pneumatics and hydraulics, based on the theoretical foundation of fluid dynamics...
, forces in vehicles occur via circulation control, in which larger more complex mechanical parts are replaced by smaller simpler fluidic systems (slots which emit air flows) where larger forces in fluids are diverted by smaller jets or flows of fluid intermittently, to change the direction of vehicles. In this use, fluidics promises lower mass, costs (up to 50% less), and very low
inertia
Inertia
Inertia is the resistance of any physical object to a change in its state of motion or rest, or the tendency of an object to resist any change in its motion. It is proportional to an object's mass. The principle of inertia is one of the fundamental principles of classical physics which are used to...
and response times, and simplicity.
See also