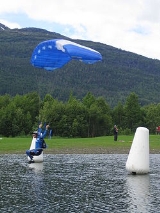 Ekstremsportveko
Ekstremsportveko
or "Veko" as it is commonly called by the locals, is a festival held annually in
Voss
Voss
is a municipality in Hordaland county, Norway. It is part of the traditional district of Voss. The administrative center of the municipality is the village of Vossevangen....
,
Norway
Norway
Norway , officially the Kingdom of Norway, is a Nordic unitary constitutional monarchy whose territory comprises the western portion of the Scandinavian Peninsula, Jan Mayen, and the Arctic archipelago of Svalbard and Bouvet Island. Norway has a total area of and a population of about 4.9 million...
. Established in 1998 by Einar Raa Nilsen, Frode Solbakk, Oyvind Kindem and Even Rokne, has grown to become one of the world's largest extreme sports festivals.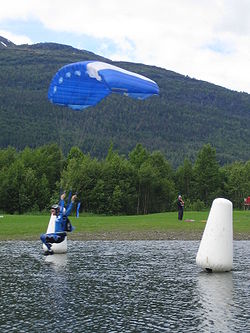 Disciplines
The week contains national and international competitions in disciplines as
BASE jumping
BASE jumping
BASE jumping, also sometimes written as B.A.S.E jumping, is an activity that employs an initially packed parachute to jump from fixed objects...
,
parachuting
Parachuting
Parachuting, also known as skydiving, is the action of exiting an aircraft and returning to earth with the aid of a parachute. It may or may not involve a certain amount of free-fall, a time during which the parachute has not been deployed and the body gradually accelerates to terminal...
,
paragliding
Paragliding
Paragliding is the recreational and competitive adventure sport of flying paragliders: lightweight, free-flying, foot-launched glider aircraft with no rigid primary structure...
, hanggliding,
kitesurfing
Kitesurfing
Kitesurfing or Kiteboarding is an adventure surface water sport that has been described as combining wakeboarding, windsurfing, surfing, paragliding, and gymnastics into one extreme sport. Kitesurfing harnesses the power of the wind to propel a rider across the water on a small surfboard or a...
,
climbing
Climbing
Climbing is the activity of using one's hands and feet to ascend a steep object. It is done both for recreation and professionally, as part of activities such as maintenance of a structure, or military operations.Climbing activities include:* Bouldering: Ascending boulders or small...
,
longboarding
Longboarding
Longboarding is the act of riding on a longboard.Longboarding is an offshoot of street skating, but, like all board sports, its roots lie in surfing. Developed as a single sport on the west coast in the 1950s, by the 1990s, Longboards and Skateboards branched off into their respective disciplines...
, mountainbike,
BMX
BMX
Bicycle motocross or BMX refers to the sport in which the main goal is extreme racing on bicycles in motocross style on tracks with inline start and expressive obstacles, and it is also the term that refers to the bicycle itself that is designed for dirt and motocross cycling.- History :BMX started...
,
rafting
Rafting
Rafting or white water rafting is a challenging recreational outdoor activity using an inflatable raft to navigate a river or other bodies of water. This is usually done on white water or different degrees of rough water, in order to thrill and excite the raft passengers. The development of this...
,
whitewater kayaking
Whitewater kayaking
Whitewater kayaking is the sport of paddling a kayak on a moving body of water, typically a whitewater river. Whitewater kayaking can range from simple, carefree gently moving water, to demanding, dangerous whitewater. River rapids are graded like ski runs according to the difficulty, danger or...
,
big air
and
Multisport
Multisport
Multisport is a family of athletic competitions in which athletes race in a continuous series of stages or "legs", and rapidly switch from one athletic discipline to another in order to achieve the best overall time...
.
History
In 2007 more than 1000 competitors and more than 40,000 spectators attended the event. The festival was covered by more than 250 reporters from both the Norwegian media as well as the international media. "Veko" does not employ many people as they base the organizing and execution of the event mostly on volunteers. In 2007 more than 600 volunteers assisted in getting the festival running smoothly.
In 2007 "Veko" received two rewards. One reward was "Best sponsor object of the year". The Norwegian Sponsor and Event association gave the prize to Ekstremsportveko stating; "Ekstremsportveko has moved away from a focus on commercialism to pure focus on their own identity where the sponsors have a more intimate presence than what was the case earlier when the activity was mentioned by the name of the sponsor". The second was "The tourism prize of the year". Innovation Norway states "With this prize we wish to focus on the overall experience in the tourism industry. Ekstremsportveko is definitely a worthy winner, says the director of tourism, Per-Arne Tuftin from Innovation Norway.
Development
As "Veko" has grown and become more and more popular, the organizers of the festival have also created a smaller winter version of the festival called Vinterveko (Winter week). This is an event that only lasts from Friday-Sunday and was first set up in 2007. The 2008 event is scheduled to take place 28–30 March. Karianne Finne, the chief organizer of the 2007 version of Vinterveko, says that Vinterveko shall remain a smaller winter version of "Veko" and they have no plans of making it into a full week festival.
Culture
As well as being an extreme sport festival, "Veko" is also a music festival. In 2007 the festival included the national and international artists
Beenie Man
Beenie Man
Anthony Moses Davis , better known by his stage name Beenie Man, is a Grammy award winning Jamaican reggae artist. He is the self-proclaimed "King of the Dancehall".-Biography:...
, Definition of Ill Sound System Show, "Delfinen", DJ Barabass, Hjalmar, Horace Andy & Dub Asante Band, Me First & The Gimme Gimmes,
Mira Craig
Mira Craig
Mira Scherdin Craig is a Norwegian-American R&B artist. Her father is an African American from Baton Rouge, Louisiana, United States of America.Craig is a DIY musician who writes and produces all her songs and music videos....
, Nico D with Admiral P and Daniel Lion of Manifest Sound,
No Means No
No Means No
No means no can refer to:*"No means no", an anti-date rape slogan.*Nomeansno, a Canadian punk rock band....
, Raggabalder Riddim Rebels, Sly & Robbie with
Bitty McLean
Bitty McLean
Bitty McLean is a British/Jamaican reggae, lovers rock and ragga musician. He is best known for his three UK Top 10 hits in 1993 and 1994, including his debut offering "It Keeps Rainin' ".-Career:...
, Svenska Akademien, Theodor Babeuf and Valentourettes.
External links