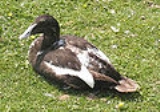 Eider
Eiders
are large seaducks in the genus
Somateria
.
Steller's Eider
Steller's Eider
The Steller's Eider is a medium-large sea duck that breeds along the Arctic coasts of eastern Siberia and Alaska. The lined nest is built on tundra close to the sea, and 6-10 eggs are laid....
, despite its name, is in a different genus.
The three extant species all breed in the cooler latitudes of the Northern hemisphere.
The
down feather
Down feather
The down of birds is a layer of fine feathers found under the tougher exterior feathers. Very young birds are clad only in down. Powder down is a specialized type of down found only in a few groups of birds. Down is a fine thermal insulator and padding, used in goods such as jackets, bedding,...
s of eider ducks, and some other ducks and geese, are used to fill pillows and quilts—they have given the name to the type of quilt known as an eiderdown.
Species
Two undescribed species are known from
fossil
Fossil
Fossils are the preserved remains or traces of animals , plants, and other organisms from the remote past...
s, one from Middle
Oligocene
Oligocene
The Oligocene is a geologic epoch of the Paleogene Period and extends from about 34 million to 23 million years before the present . As with other older geologic periods, the rock beds that define the period are well identified but the exact dates of the start and end of the period are slightly...
rocks in
Kazakhstan
Kazakhstan
Kazakhstan , officially the Republic of Kazakhstan, is a transcontinental country in Central Asia and Eastern Europe. Ranked as the ninth largest country in the world, it is also the world's largest landlocked country; its territory of is greater than Western Europe...
and another from the Late
Miocene
Miocene
The Miocene is a geological epoch of the Neogene Period and extends from about . The Miocene was named by Sir Charles Lyell. Its name comes from the Greek words and and means "less recent" because it has 18% fewer modern sea invertebrates than the Pliocene. The Miocene follows the Oligocene...
or Early
Pliocene
Pliocene
The Pliocene Epoch is the period in the geologic timescale that extends from 5.332 million to 2.588 million years before present. It is the second and youngest epoch of the Neogene Period in the Cenozoic Era. The Pliocene follows the Miocene Epoch and is followed by the Pleistocene Epoch...
of Lee Creek Mine, USA. The former may not actually belong into this genus.