 Egyptian Bridge
Egyptian Bridge
in St. Petersburg,
Russia
Russia
Russia or , officially known as both Russia and the Russian Federation , is a country in northern Eurasia. It is a federal semi-presidential republic, comprising 83 federal subjects...
, carries Lermontov Avenue over the Fontanka River.
The one-span
suspension bridge
Suspension bridge
A suspension bridge is a type of bridge in which the deck is hung below suspension cables on vertical suspenders. Outside Tibet and Bhutan, where the first examples of this type of bridge were built in the 15th century, this type of bridge dates from the early 19th century...
that it replaced was of historical interest as a monument to early 19th-century
Egyptomania
Egyptomania
Egyptomania was the renewed interest of Europeans in ancient Egypt during the nineteenth century as a result of Napoleon's Egyptian Campaign and, in particular, as a result of the extensive scientific study of ancient Egyptian remains and culture inspired by this campaign...
. It was constructed in 1825-1826 based on designs by two civil engineers, Von Traitteur and Christianowicz. Its granite
abutment
Abutment
An abutment is, generally, the point where two structures or objects meet. This word comes from the verb abut, which means adjoin or having common boundary. An abutment is an engineering term that describes a structure located at the ends of a bridge, where the bridge slab adjoins the approaching...
s were topped with cast-iron
sphinx
Sphinx
A sphinx is a mythical creature with a lion's body and a human head or a cat head.The sphinx, in Greek tradition, has the haunches of a lion, the wings of a great bird, and the face of a woman. She is mythicised as treacherous and merciless...
es and
hexagon
al
lantern
Lantern
A lantern is a portable lighting device or mounted light fixture used to illuminate broad areas. Lanterns may also be used for signaling, as 'torches', or as general light sources outdoors . Low light level varieties are used for decoration. The term "lantern" is also used more generically to...
s. An unusual feature was a pair of cast-iron gates featuring Egyptian-style columns, ornaments, and
hieroglyph
Egyptian hieroglyphs
Egyptian hieroglyphs were a formal writing system used by the ancient Egyptians that combined logographic and alphabetic elements. Egyptians used cursive hieroglyphs for religious literature on papyrus and wood...
ics, with many details of the ironwork elaborately
gilded
Gilding
The term gilding covers a number of decorative techniques for applying fine gold leaf or powder to solid surfaces such as wood, stone, or metal to give a thin coating of gold. A gilded object is described as "gilt"...
.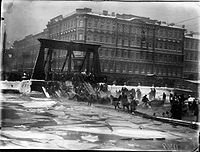 The original bridge, used by both pedestrians and horse-drawn transport, collapsed on January 20, 1905, when a cavalry squadron was marching across it. The present structure, incorporating sphinxes and several other details from the 19th-century bridge, was completed in 1955.
External links