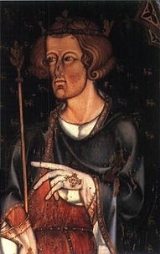 Edward I of England
Edward I also known as Edward Longshanks and the Hammer of the Scots, was King of England from 1272 to 1307. The first son of
Henry III
Henry III of England
Henry III was the son and successor of John as King of England, reigning for 56 years from 1216 until his death. His contemporaries knew him as Henry of Winchester. He was the first child king in England since the reign of Æthelred the Unready...
, Edward was involved early in the political intrigues of his father's reign, which included an outright rebellion by the English barons. In 1259, he briefly sided with a baronial reform movement, supporting the
Provisions of Oxford
Provisions of Oxford
The Provisions of Oxford are often regarded as England's first written constitution ....
. After reconciliation with his father, however, he remained loyal throughout the subsequent armed conflict, known as the
Second Barons' War
Second Barons' War
The Second Barons' War was a civil war in England between the forces of a number of barons led by Simon de Montfort, against the Royalist forces led by Prince Edward , in the name of Henry III.-Causes:...
.
1272 Following Henry III of England's death on November 16, his son Prince Edward becomes King of England.
1290 King Edward I of England issues the Edict of Expulsion, banishing all Jews (numbering about 16,000) from England; this was Tisha B'Av on the Hebrew calendar, a day that commemorates many Jewish calamities.
1291 Scottish nobles recognize the authority of Edward I of England.
1295 The first elected representatives from Lancashire are called to Westminster by King Edward I to attend what later became known as "The Model Parliament".
1296 Edward I sacks Berwick-upon-Tweed, during armed conflict between Scotland and England.
1296 Battle of Dunbar: The Scots are defeated by Edward I of England.
1305 William Wallace, Scottish patriot, is executed for high treason by Edward I of England.