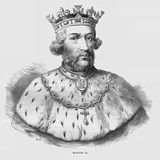 Edward II of England
Edward II
called
Edward of Caernarfon
, was King of England from 1307 until he was
deposed
Deposition (politics)
Deposition by political means concerns the removal of a politician or monarch. It may be done by coup, impeachment, invasion or forced abdication...
by his wife
Isabella
Isabella of France
Isabella of France , sometimes described as the She-wolf of France, was Queen consort of England as the wife of Edward II of England. She was the youngest surviving child and only surviving daughter of Philip IV of France and Joan I of Navarre...
in January 1327. He was the sixth Plantagenet king, in a line that began with the reign of
Henry II
Henry II of England
Henry II ruled as King of England , Count of Anjou, Count of Maine, Duke of Normandy, Duke of Aquitaine, Duke of Gascony, Count of Nantes, Lord of Ireland and, at various times, controlled parts of Wales, Scotland and western France. Henry, the great-grandson of William the Conqueror, was the...
. Interspersed between the strong reigns of his father Edward I and son Edward III, the reign of Edward II was considered by some to be disastrous for England, marked by alleged incompetence, political squabbling and military defeats.
Although widely rumoured to have been either homosexual or bisexual, Edward fathered at least five children by two women.