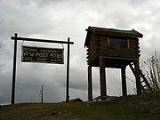 Eagle River, Alaska
Eagle River
is a community within the Municipality of Anchorage situated on the
Eagle River
Eagle River (Alaska)
There are three rivers named Eagle River in the U.S. state of Alaska.Eagle River in Anchorage flows northwest from Eagle Glacier to Eagle Bay in Cook Inlet, 15 km northeast of Anchorage. Its Dena'ina name was Yukla-hina. The Anchorage suburb of Eagle River is named after this river...
for which it is named, between Fort Richardson and
Chugach State Park
Chugach State Park
Chugach State Park is a 495,204-acre state park in the Municipality of Anchorage in the U.S. state of Alaska. Located in the Chugach Mountains just east of the Anchorage Bowl, it is a very popular recreation destination...
in the Chugach Mountains. Its ZIP code is 99577. If Eagle River were not part of the Municipality of Anchorage, it would be classified as one of the five largest cities in Alaska.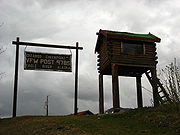 History
The name Eagle River was first reported in 1939 by the U.S. Geological Survey. The Eagle River/Chugiak area was settled by homesteaders and prospered on agricultural activities. The Eagle River post office was established in 1961.
In spite of local opposition, Chugiak and Eagle River became annexed to the Municipality of Anchorage, when the City of Anchorage and the Greater Anchorage Area Borough were unified in 1975. Efforts to secede from the municipality have been ongoing since 2000, in the form of petitions and a home rule vote.
Demographics
The 2000 census found a population of 22,236 in Eagle River and an additional 8,000 in the settlements northeast of Eagle River: Chugiak, Birchwood, Peters Creek, Thunderbird Falls and Eklutna. About 30,000 people live in the Eagle River and Chugiak areas, on both sides of the Glenn Highway. Many personnel from Fort Richardson and
Elmendorf Air Force Base
Elmendorf Air Force Base
Joint Base Elmendorf-Richardson is a United States military facility adjacent to Anchorage, the largest city in Alaska. It is an amalgamation of the former United States Air Force Elmendorf Air Force Base and the United States Army Fort Richardson, which were merged in 2010.-Overview:The...
live in Eagle River, and many of the area's civilian residents commute to
Anchorage
Anchorage, Alaska
Anchorage is a unified home rule municipality in the southcentral part of the U.S. state of Alaska. It is the northernmost major city in the United States...
jobs.
Eagle River is the shopping hub between Anchorage, Palmer, and Wasilla. Major stores are Wal-Mart, Fred Meyer and Carrs Safeway. The last decade has seen two major improvements in local services: shopping and the availability of medical and dental services. The local movie theater reopened in 2006 with six screens. The number of local restaurants available has almost doubled in the past 10 years as well. There are restaurants available that serve Mexican, Italian, Thai, Indian, local Alaskan and American cuisines, as well as national fast-food places: McDonalds, Arbys, Pizza Hut, Taco Bell, Papa John's Pizza and Carls Jr.. Local coffee shops are very popular places to get together, with Tinkers Rainforest Deli, Jitters and Sleepy Dog being very popular places for study groups to meet.
Chugiak High School
Chugiak High School
Chugiak High School is a public high school located in Chugiak, Alaska. Chugiak's mascot is the Mustang and the school colors are blue, black, and white...
is northeast of town.
Eagle River High School
Eagle River High School
Eagle River High School is a public high school in Eagle River in the U.S. state of Alaska. Opened in 2005, it is attended by approximately 1004 students living in Eagle River and on Fort Richardson. The current principal is Marty Lang....
is the other High School in the region located Southwest of the town. There is a popular monthly advertisement magazine called "The Cache" which is delivered through the local postal service which provides not only ads for local services, but also serves to help families keep track of what sports and extracurricular activities are available for themselves or their children. The
Alaska Star
Alaska Star
The Alaska Star is a weekly newspaper in the Municipality of Anchorage in the U.S. state of Alaska. The Alaska Star serves communities north of the Anchorage Bowl, including Eagle River, Chugiak and Eklutna....
is the hometown newspaper for the communities of Eagle River, Chugiak, Eklutna, Peters Creek and Birchwood.
Annual community events include the Highland Games at the end of June and a Fourth of July celebration, both held at Lion's Park, and the Bear Paw Festival which is in July and is celebrated all over Eagle River.
The Bear Paw Festival kicks off on Thursday evening with the Miss Bear Paw pageant held at the Steve Primis Auditorium at Chugiak High School. This scholarship pageant sponsored by the Chugiak-Eagle River Chamber of Commerce also presents awards for Bear Paw Princess, Official Escort, Best Costume with an Alaskan Theme and Miss Congeniality. The Sleeping Lady Mountain Lions Club provides a Community Service Award scholarship as well. Saturday morning there is a 5k foot race, followed by a very well-attended parade; with many events over the weekend, including the Slippery Salmon Derby, Stinky Sneaker competition, Dog & Owner Look-alike, and Iditaduck race. There are carnival games and rides as well as numerous vendors providing food and wares ranging from toys to furniture. A Renaissance anachronistic group does performances several times daily on Saturday and Sunday.
Schools
Eagle River has numerous public, parochial and charter school programs available for K-12 grades. The public school district is the
Anchorage School District
Anchorage School District
The Anchorage School District manages all public schools within the Municipality of Anchorage in the U.S. state of Alaska. It is the 93rd largest school district in the United States, serving nearly 50,000 students at over 90 schools. As one of the United States' largest districts, it is often...
(ASD). Homeschooling is also a popular form of education in the area, both through home based charter schools and independently. Alaska has some of the "friendliest" home school laws in the United States. The only high school in the city is Eagle River High School, although there is the option to go to Chugiak High School 5-10 miles away in Chugiak.
The University of Alaska has a branch office and provides classes in the area. There is also a local Bible college.
Sports and activities
There is a lot of local interest in sports: both indoor and outdoor soccer, baseball, softball, basketball, football, swimming/diving, hiking, and cross-country running and skiing. A bike trail runs alongside the Glenn Highway from Anchorage past Eagle River and to Chugiak. Sidewalks are available and kept clear most of the winter in the downtown area for walking and jogging along the Old Glenn Highway and Business Boulevard. Cross-country skiing trails are available along Birchwood Road near Chugiak High School and recently trails have been put in around eagle river high school. Hockey, figure skating, and leisure skating are available at the Harry J. McDonald Memorial Center ice rink. Chugiak Youth Sports Association (CYSA) is a local non profit organization that offers recreational team sport opportunities to the youth of Chugiak and Eagle River including soccer, basketball, volleyball and flag football.
Climate
Eagle River's average temperatures in January range from 6 to 20 degrees; in summer, temperatures range from 50 to 70. Annual precipitation is 15.9 inches, with 69 inches of snowfall. The bulk of the snowfall is usually from mid-October through December, with fewer snowstorms from January through April. On average, the area experiences 2 to 3 "chinooks" - a warm, dry wind that melts much of the snow and creates a minor thaw - during the winter months. Springtime is generally referred to as "break up" in the area and further north, referring to the breaking up of the ice on rivers and lakes. Local lore holds that seedlings should not be planted outdoors until after Mother's Day in May, and even then temperatures should be watched for light frost until June.
Eagle River Nature Center
The Eagle River Nature Center, which sits at an entrance to Chugach State Park, is 12 miles up Eagle River Road. The center (in conjunction with "friends of") run numerous educational programs aimed at bringing people closer to nature through education and outdoor excursions.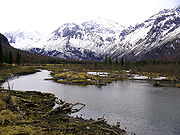 Popular local activities include rafting, hiking, skiing and exploring the mountains. One of the more popular local hikes is up Mount Baldy, which overlooks the town. The historic Crow Pass Trail, which runs 26 miles from the Eagle River Nature Center and ends near the town of Girdwood, remains a favorite backpacking trip. There is little fishing in the river, but anglers do gather at Fire and Mirror Lakes.
External links