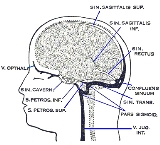 Dura mater
The
dura mater
ˈ, or
dura
, is the outermost of the three layers of the
meninges
Meninges
The meninges is the system of membranes which envelopes the central nervous system. The meninges consist of three layers: the dura mater, the arachnoid mater, and the pia mater. The primary function of the meninges and of the cerebrospinal fluid is to protect the central nervous system.-Dura...
surrounding the
brain
Brain
The brain is the center of the nervous system in all vertebrate and most invertebrate animals—only a few primitive invertebrates such as sponges, jellyfish, sea squirts and starfishes do not have one. It is located in the head, usually close to primary sensory apparatus such as vision, hearing,...
and
spinal cord
Spinal cord
The spinal cord is a long, thin, tubular bundle of nervous tissue and support cells that extends from the brain . The brain and spinal cord together make up the central nervous system...
. It is derived from
Mesoderm
Mesoderm
In all bilaterian animals, the mesoderm is one of the three primary germ cell layers in the very early embryo. The other two layers are the ectoderm and endoderm , with the mesoderm as the middle layer between them.The mesoderm forms mesenchyme , mesothelium, non-epithelial blood corpuscles and...
. The other two meningeal layers are the
pia mater
Pia mater
Pia mater often referred to as simply the pia, is the delicate innermost layer of the meninges, the membranes surrounding the brain and spinal cord. The word finds its roots in Latin, meaning literally "tender mother." The other two meningeal membranes are the dura mater and the arachnoid mater....
and the
arachnoid mater
Arachnoid mater
The arachnoid mater, literally from Latin "spider -like mother", is one of the three meninges, the membranes that cover the brain and spinal cord...
. The dura surrounds the brain and the spinal cord and is responsible for keeping in the
cerebrospinal fluid
Cerebrospinal fluid
Cerebrospinal fluid , Liquor cerebrospinalis, is a clear, colorless, bodily fluid, that occupies the subarachnoid space and the ventricular system around and inside the brain and spinal cord...
. The name "dura mater" is derived from the Latin "hard mother" or "tough mother", (translation of Arabic umm al-dimagh as-safiqa) and is also referred to by the term "pachymeninx" (plural "pachymeninges").