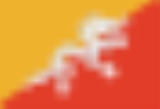 Druk

The
Druk
is the "Thunder
Dragon
Dragon
A dragon is a legendary creature, typically with serpentine or reptilian traits, that feature in the myths of many cultures. There are two distinct cultural traditions of dragons: the European dragon, derived from European folk traditions and ultimately related to Greek and Middle Eastern...
" of
Bhutan
Bhutan
Bhutan , officially the Kingdom of Bhutan, is a landlocked state in South Asia, located at the eastern end of the Himalayas and bordered to the south, east and west by the Republic of India and to the north by the People's Republic of China...
ese mythology and a
Bhutanese national symbol
National symbols of Bhutan
The national symbols of Bhutan include the national flag, national emblem, national anthem, and the mythical druk thunder dragon featured in all three. Other distinctive symbols of Bhutan and its dominant Ngalop culture include Dzongkha, the national language; the Bhutanese monarchy; and the...
. A druk appears on the
Bhutanese Flag
Flag of Bhutan
The national flag of Bhutan is one of the national symbols of Bhutan. The flag is based upon the tradition of the Drukpa Lineage of Tibetan Buddhism and features Druk, the Thunder Dragon of Bhutanese mythology. The basic design of the flag by Mayum Choying Wangmo Dorji dates to 1947...
, holding jewels to represent wealth. In the
Dzongkha language
Dzongkha language
Dzongkha , occasionally Ngalopkha, is the national language of Bhutan. The word "dzongkha" means the language spoken in the dzong, – dzong being the fortress-like monasteries established throughout Bhutan by Shabdrung Ngawang Namgyal in the 17th century."Bhutani" is not another name for...
, Bhutan is called Druk Yul, or Land of Druk, and Bhutanese leaders are called Druk Gyalpo, Dragon Kings. During the Bhutanese mock election in 2007, all four mock parties were called the
Druk colour Party
. The
national anthem
National anthem
A national anthem is a generally patriotic musical composition that evokes and eulogizes the history, traditions and struggles of its people, recognized either by a nation's government as the official national song, or by convention through use by the people.- History :Anthems rose to prominence...
of Bhutan,
Druk tsendhen
Druk tsendhen
Druk tsendhen is the national anthem of Bhutan.Adopted in 1953, the music is by Aku Tongmi and the words are by Dasho Gyaldun Thinley. Tongmi was educated in India and was recently appointed leader of the military brass band when the need for an anthem rose at the occasion of a state visit from...
, translates into English as "The Kingdom of Druk".
Other Asian dragons