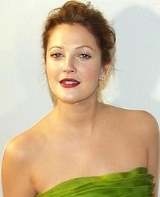 Drew Barrymore
Drew Blyth Barrymore is an American actress,
film director
Film director
A film director is a person who directs the actors and film crew in filmmaking. They control a film's artistic and dramatic nathan roach, while guiding the technical crew and actors.-Responsibilities:...
,
screenwriter
Screenwriter
Screenwriters or scriptwriters or scenario writers are people who write/create the short or feature-length screenplays from which mass media such as films, television programs, Comics or video games are based.-Profession:...
,
producer
Film producer
A film producer oversees and delivers a film project to all relevant parties while preserving the integrity, voice and vision of the film. They will also often take on some financial risk by using their own money, especially during the pre-production period, before a film is fully financed.The...
and model. She is a member of the
Barrymore family
Barrymore family
The Barrymore family is an American acting family.The Barrymores are also the inspiration of a Broadway and West End play called The Royal Family....
of American actors and granddaughter of
John Barrymore
John Barrymore
John Sidney Blyth , better known as John Barrymore, was an acclaimed American actor. He first gained fame as a handsome stage actor in light comedy, then high drama and culminating in groundbreaking portrayals in Shakespearean plays Hamlet and Richard III...
. She first appeared in an advertisement when she was 11 months old. Barrymore made her film debut in
Altered States
Altered States
Altered States is a 1980 American science fiction-horror film adaptation of a novel by the same name by playwright and screenwriter Paddy Chayefsky. It was the only novel that Chayefsky ever wrote, as well as his final film. Both the novel and the film are based on John C...
in 1980. Afterwards, she starred in her breakout role in
E.T. the Extra-Terrestrial
E.T. the Extra-Terrestrial
E.T. the Extra-Terrestrial is a 1982 American science fiction film co-produced and directed by Steven Spielberg, written by Melissa Mathison and starring Henry Thomas, Dee Wallace, Robert MacNaughton, Drew Barrymore, and Peter Coyote...
. She quickly became one of Hollywood's most recognized child actors, going on to establish herself in mainly comic roles.
Following a turbulent childhood which was marked by
drug
Drug abuse
Substance abuse, also known as drug abuse, refers to a maladaptive pattern of use of a substance that is not considered dependent. The term "drug abuse" does not exclude dependency, but is otherwise used in a similar manner in nonmedical contexts...
and
alcohol abuse
Alcoholism
Alcoholism is a broad term for problems with alcohol, and is generally used to mean compulsive and uncontrolled consumption of alcoholic beverages, usually to the detriment of the drinker's health, personal relationships, and social standing...
and two stints in
rehab
Drug rehabilitation
Drug rehabilitation is a term for the processes of medical or psychotherapeutic treatment, for dependency on psychoactive substances such as alcohol, prescription drugs, and so-called street drugs such as cocaine, heroin or amphetamines...
, Barrymore wrote the 1990 autobiography, Little Girl Lost.
I'd rather be a few kilos heavier and enjoy life than be worried all the time.

Daisies are like sunshine to the ground.

I believe that everything happens for a reason, but I think it's important to seek out that reason - that's how we learn.

I never regret anything. Because every little detail of your life is what made you into who you are in the end...

Everyone is like a butterfly, they start out ugly and awkward and then morph into beautiful graceful butterflies that everyone loves.

If you're going to be alive and on this planet, you have to, like, suck the marrow out of every day and get the most out of it.

I think that whatever scares you is exactly where you should go because safe and comfortable means you've already done it.

Those things that I've found out on my own are what guide me.

You act differently when you're alone; that's when you're in your truest state.

The most valuable thing i've learned about being in a relationship is that you're not the only one in it.