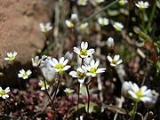 Draba verna
Spring draba
may also go by the names
shadflower
,
nailwort
,
vernal whitlow grass
,
early witlow grass
or
whitlow-grass
. It is a tiny, tiny plant of
sagebrush
Sagebrush
Sagebrush is a common name of a number of shrubby plant species in the genus Artemisia native to western North America;Or, the sagebrush steppe ecoregion, having one or more kinds of sagebrush, bunchgrasses and others;...
country, in the inland western U.S., most of Europe, including Britain, North Africa and temperate Asia. It was once thought to have been introduced to
America
Americas
The Americas, or America , are lands in the Western hemisphere, also known as the New World. In English, the plural form the Americas is often used to refer to the landmasses of North America and South America with their associated islands and regions, while the singular form America is primarily...
from
Europe
Europe
Europe is, by convention, one of the world's seven continents. Comprising the westernmost peninsula of Eurasia, Europe is generally 'divided' from Asia to its east by the watershed divides of the Ural and Caucasus Mountains, the Ural River, the Caspian and Black Seas, and the waterways connecting...
, but is now considered native to both continents. It grows in very early
spring
Spring (season)
Spring is one of the four temperate seasons, the transition period between winter and summer. Spring and "springtime" refer to the season, and broadly to ideas of rebirth, renewal and regrowth. The specific definition of the exact timing of "spring" varies according to local climate, cultures and...
. The
flower
Flower
A flower, sometimes known as a bloom or blossom, is the reproductive structure found in flowering plants . The biological function of a flower is to effect reproduction, usually by providing a mechanism for the union of sperm with eggs...
s have four deeply notched white
petal
Petal
Petals are modified leaves that surround the reproductive parts of flowers. They often are brightly colored or unusually shaped to attract pollinators. Together, all of the petals of a flower are called a corolla. Petals are usually accompanied by another set of special leaves called sepals lying...
s, and are borne an inch or two above the ground by a long stem. The leaves are clustered at the base.
Spring draba
is said to be edible by
Plants For A Future
Plants for a Future
Plants For A Future is an online not for profit resource for those interested in edible and useful plants of temperate regions. The project currently has a site in the South West of England where many of the plants are being grown on a trial basis, and maintains a small mail order catalogue...
.