 Dot matrix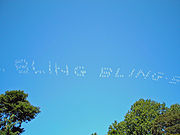 A
dot matrix
is a 2-dimensional array of LED used to represent characters, symbols and images.
Typically the dot matrix is used in older
computer printer
Computer printer
In computing, a printer is a peripheral which produces a text or graphics of documents stored in electronic form, usually on physical print media such as paper or transparencies. Many printers are primarily used as local peripherals, and are attached by a printer cable or, in most new printers, a...
s and many digital
display device
Display device
A display device is an output device for presentation of information in visual or tactile form...
s. In printers, the dots are usually the darkened areas of the paper. In displays, the dots may light up, as in an
LED
Light-emitting diode
A light-emitting diode is a semiconductor light source. LEDs are used as indicator lamps in many devices and are increasingly used for other lighting...
or
CRT
Cathode ray tube
The cathode ray tube is a vacuum tube containing an electron gun and a fluorescent screen used to view images. It has a means to accelerate and deflect the electron beam onto the fluorescent screen to create the images. The image may represent electrical waveforms , pictures , radar targets and...
display, or darken, as in an
LCD
Liquid crystal display
A liquid crystal display is a flat panel display, electronic visual display, or video display that uses the light modulating properties of liquid crystals . LCs do not emit light directly....
, however multicolour LCDs are sometimes initially dark and light up.
In the context of printers, the term mainly refers to impact printers, with a column of 8, 9 or 24 "pins" hitting an ink-impregnated fabric ribbon, like a
typewriter
Typewriter
A typewriter is a mechanical or electromechanical device with keys that, when pressed, cause characters to be printed on a medium, usually paper. Typically one character is printed per keypress, and the machine prints the characters by making ink impressions of type elements similar to the pieces...
ribbon, onto the paper. It was originally contrasted with daisy wheel printers and
line printer
Line printer
The line printer is a form of high speed impact printer in which one line of type is printed at a time. They are mostly associated with the early days of computing, but the technology is still in use...
s.
Almost all modern computer printers also create their output as matrices of dots, but use a different technology like
laser printing
Laser printer
A laser printer is a common type of computer printer that rapidly produces high quality text and graphics on plain paper. As with digital photocopiers and multifunction printers , laser printers employ a xerographic printing process, but differ from analog photocopiers in that the image is produced...
or
inkjet printing
Inkjet printer
An inkjet printer is a type of computer printer that creates a digital image by propelling droplets of ink onto paper. Inkjet printers are the most commonly used type of printer and range from small inexpensive consumer models to very large professional machines that can cost up to thousands of...
, and are not called Dot Matrix printers. Dot Matrix printers survive where multi-part forms are needed, as the impact can make a carbonless copy, for security purposes.
A dot matrix is useful for marking materials other than paper. In manufacturing industry, many marking applications use dot matrix inkjet or impact methods. This can also be used to print 2D matrix codes, e.g. Datamatrix.
LED matrix
An
LED
LEd
LEd is a TeX/LaTeX editing software working under Microsoft Windows. It is a freeware product....
matrix is a simple form of dot matrix display, useful both for industrial displays as well as for hobbyist human–machine interfaces. It consists of a 2-D matrix of LEDs with their cathodes joined in rows and their anodes joined in columns (or vice versa). By controlling the flow of electricity through each row and column pair it is possible to control each LED individually. By scanning across rows, quickly flashing the LEDs on and off, it is possible to create characters or pictures to display information to the user.
The refresh rate is typically fast enough to prevent the human eye from detecting the flicker.
In popular culture
Dot Matrix
is the name of a character on the acclaimed
CGI
Computer-generated imagery
Computer-generated imagery is the application of the field of computer graphics or, more specifically, 3D computer graphics to special effects in art, video games, films, television programs, commercials, simulators and simulation generally, and printed media...
show
ReBoot
ReBoot
ReBoot is a Canadian CGI-animated action-adventure cartoon series that originally aired from 1994 to 2001. It was produced by Vancouver-based production company Mainframe Entertainment, Alliance Communications, BLT Productions and created by Gavin Blair, Ian Pearson, Phil Mitchell and John Grace,...
.
Dot Matrix is also the name of a character in the 1987
Mel Brooks
Mel Brooks
Mel Brooks is an American film director, screenwriter, composer, lyricist, comedian, actor and producer. He is best known as a creator of broad film farces and comic parodies. He began his career as a stand-up comic and as a writer for the early TV variety show Your Show of Shows...
film
Spaceballs
Spaceballs
Spaceballs is a 1987 American science fiction comedy parody film co-written by, directed by, Mel Brooks and starring Bill Pullman, John Candy, Mel Brooks & Rick Moranis. It also features, Daphne Zuniga, Dick Van Patten, and the voice of Joan Rivers. The film was released by Metro-Goldwyn-Mayer on...
.
External links