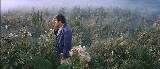 Donatas Banionis
Donatas Banionis
is a Lithuanian and Soviet actor. He is best known in the West for his performance in the lead role of
Tarkovsky
Andrei Tarkovsky
Andrei Arsenyevich Tarkovsky was a Soviet and Russian filmmaker, writer, film editor, film theorist, theatre and opera director, widely regarded as one of the finest filmmakers of the 20th century....
's
Solaris
Solaris (1972 film)
Solaris is a 1972 film adaptation of the novel Solaris , directed by Andrei Tarkovsky. The film is a meditative psychological drama occurring mostly aboard a space station orbiting the fictional planet Solaris. The scientific mission has stalled, because the scientist crew have fallen to...
as Kris Kelvin.
Banionis began his career with some films in
Lithuanian
Lithuanian language
Lithuanian is the official state language of Lithuania and is recognized as one of the official languages of the European Union. There are about 2.96 million native Lithuanian speakers in Lithuania and about 170,000 abroad. Lithuanian is a Baltic language, closely related to Latvian, although they...
, but he would later play mainly in
Russian language
Russian language
Russian is a Slavic language used primarily in Russia, Belarus, Uzbekistan, Kazakhstan, Tajikistan and Kyrgyzstan. It is an unofficial but widely spoken language in Ukraine, Moldova, Latvia, Turkmenistan and Estonia and, to a lesser extent, the other countries that were once constituent republics...
films. He has also worked outside the USSR like in the title role Goya of the USSR-GDR coproduction
Goya - oder Der arge Weg der Erkenntnis
(1971), directed by
Konrad Wolf
Konrad Wolf
Konrad Wolf was an East German film director, son of Friedrich Wolf, brother of Markus Wolf....
and in the title role as
Beethoven
Ludwig van Beethoven
Ludwig van Beethoven was a German composer and pianist. A crucial figure in the transition between the Classical and Romantic eras in Western art music, he remains one of the most famous and influential composers of all time.Born in Bonn, then the capital of the Electorate of Cologne and part of...
in the 1976 DEFA-production
Beethoven - Tage aus einem Leben
.
In addition to films, he is a popular actor in the theatre of
Panevėžys
Panevežys
Panevėžys see also other names, is the fifth largest city in Lithuania. As of 2008, it occupied 50 square kilometers with 113,653 inhabitants. The largest multifunctional arena in Panevėžys is the Cido Arena...
, where he has been acting since the age of 17, and which was frequented by Donatas' fans from all over the former Soviet Union. His first teacher was
Juozas Miltinis
Juozas Miltinis
Juozas Miltinis was a Lithuanian theatre director and founder of the Panevėžys Drama Theatre. Miltinis has brought up a number of actors.-Biography:...
. He also acts in
Vilnius
Vilnius
Vilnius is the capital of Lithuania, and its largest city, with a population of 560,190 as of 2010. It is the seat of the Vilnius city municipality and of the Vilnius district municipality. It is also the capital of Vilnius County...
, in the
Lithuanian National Drama Theatre
Lithuanian National Drama Theatre
Lithuanian National Drama Theatre , located on Gediminas Avenue in Vilnius, is one of the biggest theatres in Lithuania. Since its establishment in 1940, it has staged over 200 performances. The theatre's current repertoire mixes classical and modern theatre Lithuanian National Drama Theatre ,...
.
Filmography
Marite (1947) - cameo
Nobody Wanted to Die

Nobody Wanted to Die

Nobody Wanted to Die is a 1966 Lithuanian film made in Soviet Lithuania and directed by Vytautas Žalakevičius. Žalakevičius, actor Donatas Banionis, and cinematographer Jonas Gricius were awarded USSR State Prize for the film in 1967.-Cast:...


(1966) - Vaitkus
Dead Season

Dead Season (film)

Dead Season is a 1968 Soviet spy film directed by Savva Kulish based on a screenplay by Aleksandr Shlepyanov and Vladimir Vajnshtok and featuring Donatas Banionis and Rolan Bykov.-Cast:...


(1968) - Ladeinikov
The Red Tent

The Red Tent (film)

The Red Tent is a joint Soviet/Italian 1969 film directed by Mikhail Kalatozov.The film is based on the story of the mission to rescue Umberto Nobile and the other survivors of the crash of the Airship Italia. It features Sean Connery as Roald Amundsen and Peter Finch as Nobile. The script was...


(1969)
Goya (1971) - Goya
King Lear

King Lear (1971 USSR film)

King Lear is a 1971 Soviet film directed by Grigori Kozintsev, based on William Shakespeare's play King Lear.-Cast:* Jüri Järvet - King Lear * Elza Radzina - Goneril* Galina Volchek - Regan* Valentina Shendrikova - Cordelia...


(1971)
Solaris

Solaris (1972 film)

Solaris is a 1972 film adaptation of the novel Solaris , directed by Andrei Tarkovsky. The film is a meditative psychological drama occurring mostly aboard a space station orbiting the fictional planet Solaris. The scientific mission has stalled, because the scientist crew have fallen to...


(1972) - Kris
Mama, I'm Alive

Mama, I'm Alive

Mama, I'm Alive is a 1977 East German film directed by Konrad Wolf. It was chosen as East Germany's official submission to the 50th Academy Awards for Best Foreign Language Film, but did not manage to receive a nomination...


(1977)
Faktas

Faktas

Faktas is a 1981 Soviet war film directed by Almantas Grikevicius. It was entered into the 1981 Cannes Film Festival, where Yelena Solovey won the award for Best Supporting Actress.-Cast:* Regimantas Adomaitis* Donatas Banionis* Juozas Budraitis...


(1981)
Niccolo Paganini (1985) - Luigi Germi
Anastasia (2006)
External links