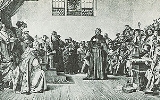 Diet of Worms
The
Diet of Worms 1521
was a
diet
Diet (assembly)
In politics, a diet is a formal deliberative assembly. The term is mainly used historically for the Imperial Diet, the general assembly of the Imperial Estates of the Holy Roman Empire, and for the legislative bodies of certain countries.-Etymology:...
(a formal
deliberative assembly
Deliberative assembly
A deliberative assembly is an organization comprising members who use parliamentary procedure to make decisions. In a speech to the electorate at Bristol in 1774, Edmund Burke described the English Parliament as a "deliberative assembly," and the expression became the basic term for a body of...
, specifically an Imperial Diet) that took place in
Worms, Germany
Worms, Germany
Worms is a city in Rhineland-Palatinate, Germany, on the Rhine River. At the end of 2004, it had 85,829 inhabitants.Established by the Celts, who called it Borbetomagus, Worms today remains embattled with the cities Trier and Cologne over the title of "Oldest City in Germany." Worms is the only...
, and is most memorable for the
Edict of Worms
(
Wormser Edikt
), which addressed
Martin Luther
Martin Luther
Martin Luther was a German priest, professor of theology and iconic figure of the Protestant Reformation. He strongly disputed the claim that freedom from God's punishment for sin could be purchased with money. He confronted indulgence salesman Johann Tetzel with his Ninety-Five Theses in 1517...
and the effects of the
Protestant Reformation
Protestant Reformation
The Protestant Reformation was a 16th-century split within Western Christianity initiated by Martin Luther, John Calvin and other early Protestants. The efforts of the self-described "reformers", who objected to the doctrines, rituals and ecclesiastical structure of the Roman Catholic Church, led...
.
It was conducted from 28 January to 25 May 1521, with Emperor
Charles V
Charles V, Holy Roman Emperor
Charles V was ruler of the Holy Roman Empire from 1519 and, as Charles I, of the Spanish Empire from 1516 until his voluntary retirement and abdication in favor of his younger brother Ferdinand I and his son Philip II in 1556.As...
presiding.
Other Imperial diets at Worms were convened in the years 829, 926, 1076, 1122, 1495, and 1545.