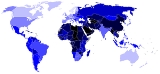 Dictatorship
A dictatorship is defined as an
autocratic
Autocracy
An autocracy is a form of government in which one person is the supreme power within the state. It is derived from the Greek : and , and may be translated as "one who rules by himself". It is distinct from oligarchy and democracy...
form of government
Form of government
A form of government, or form of state governance, refers to the set of political institutions by which a government of a state is organized. Synonyms include "regime type" and "system of government".-Empirical and conceptual problems:...
in which the
government
Government
Government refers to the legislators, administrators, and arbitrators in the administrative bureaucracy who control a state at a given time, and to the system of government by which they are organized...
is ruled by an individual, the
dictator
Dictator
A dictator is a ruler who assumes sole and absolute power but without hereditary ascension such as an absolute monarch. When other states call the head of state of a particular state a dictator, that state is called a dictatorship...
. It has three possible meanings:
A Roman dictator

Roman dictator

In the Roman Republic, the dictator , was an extraordinary magistrate with the absolute authority to perform tasks beyond the authority of the ordinary magistrate . The office of dictator was a legal innovation originally named Magister Populi , i.e...


was the incumbent of a political office of the Roman Republic

Roman Republic

The Roman Republic was the period of the ancient Roman civilization where the government operated as a republic. It began with the overthrow of the Roman monarchy, traditionally dated around 508 BC, and its replacement by a government headed by two consuls, elected annually by the citizens and...


. Roman dictators were allocated absolute power during times of emergency. Their power was originally neither arbitrary nor unaccountable, being subject to law

Law

Law is a system of rules and guidelines which are enforced through social institutions to govern behavior, wherever possible. It shapes politics, economics and society in numerous ways and serves as a social mediator of relations between people. Contract law regulates everything from buying a bus...


and requiring retrospective justification.