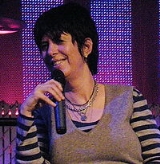 Diane Warren
Diane Eve Warren
is a
US
United States
The United States of America is a federal constitutional republic comprising fifty states and a federal district...
songwriter
Songwriter
A songwriter is an individual who writes both the lyrics and music to a song. Someone who solely writes lyrics may be called a lyricist, and someone who only writes music may be called a composer...
. Her songs have received six Academy Award nominations, five Golden Globe nominations, including one win and seven
Grammy Award
Grammy Award
A Grammy Award — or Grammy — is an accolade by the National Academy of Recording Arts and Sciences of the United States to recognize outstanding achievement in the music industry...
nominations, including one win. She was inducted into the
Songwriters Hall of Fame
Songwriters Hall of Fame
The Songwriters Hall of Fame is an arm of the National Academy of Popular Music. It was founded in 1969 by songwriter Johnny Mercer and music publishers Abe Olman and Howie Richmond. The goal is to create a museum but as of April, 2008, the means do not yet exist and so instead it is an online...
in 2001. Her success in the US has been paralleled in the UK, where she has been rated the third most successful female artist.
She was the first songwriter in the history of
Billboard
Billboard (magazine)
Billboard is a weekly American magazine devoted to the music industry, and is one of the oldest trade magazines in the world. It maintains several internationally recognized music charts that track the most popular songs and albums in various categories on a weekly basis...
to have seven hits, all by different artists, on the singles chart at the same time. Warren owns her own publishing company, Realsongs, which gives her control over her compositions. Meanwhile, her songs have been featured in more than 70 films or television shows.
Early life
Warren was born in Van Nuys, California, where she said she felt misunderstood and "alien" as a Jewish kid growing up. She says she was rebellious as a child and told NPR's Scott Simon that she got into trouble and ran away as a teen but returned because she missed her cat. She began writing music when she was 14. "Music saved me", she said. Warren also has said that her mother asked her to give up her dream of a songwriting career and take a secretarial job. However, her father continued to believe in her and encouraged her. She wrote the song "Because You Loved Me" as a tribute to her father for his encouragement.
Career
Her first hit was "
Solitaire
Solitaire (Laura Branigan song)
-Background:The song originated as a 1981 recording in French by Martine Clemencau for whom "Solitaire" was a modest hit with a French chart peak of #50 on the French pop charts where it remained for 22 weeks. Written by Clemencau herself, the French version of "Solitaire" concerned a recluse who...
", which
Laura Branigan
Laura Branigan
Laura Ann Branigan was an American singer-songwriter and actress of Italian and Irish ancestry. She is best known in the United States for her 1982 Platinum-certified hit "Gloria" and in Europe for the number-one single "Self Control"...
took to No. 7 in the US pop charts in 1983.
Though most of Warren's songs deal with
romantic
Romantic love
Romance is the pleasurable feeling of excitement and mystery associated with love.In the context of romantic love relationships, romance usually implies an expression of one's love, or one's deep emotional desires to connect with another person....
themes, Warren has never married.
In 1998, her company Realsongs and its international partner, EMI Music Publishing, distributed "A Passion For Music," a six-CD box set that showcased her music. EMI Music's London office assisted in distributing 1,200 copies of the box set primarily to the film and television industry for consideration in soundtracks and other commercial endeavors. It was not marketed to consumers. As of 2011, her music has appeared in the soundtracks over 60 films. She was awarded a star in the Hollywood Walk of Fame in 2001.
The Diane Warren Foundation, in conjunction with the ASCAP Foundation and the VH1 Save the Music Foundation created a joint initiative, beginning in 2000, called Music in the Schools. The initiative provides sheet music, band arrangements, folios, and method books to each of the schools that are already recipients of musical instruments from the VH1 Save the Music Foundation.
In 2004 she released a compilation album of love songs, titled
Diane Warren Presents Love Songs
Diane Warren Presents Love Songs
Diane Warren Presents Love Songs is a compilation album of love songs written by American Grammy Award and Golden Globe-winning and Academy Award-nominated songwriter Diane Warren, released by herself in 2004 to 2006 in various countries...
, which includes several of her award-winning hits. She continues to write and produce hit songs for artists of all mainstream genres, including Elton John, Tina Turner, Barbra Streisand, Aretha Franklin, Roberta Flack, Roy Orbison, Patti LaBelle, 'N Sync, Gloria Estefan, Reba McEntire, Whitney Houston, Enrique Iglesias, RBD, Aerosmith, The Cult, Ricky Martin, Faith Hill, Meat Loaf, Celine Dion, Mary J. Blige, Expose', Leigh Nash of Sixpence None the Richer, and LeAnn Rimes. Her songs have been covered by artists including Weezer, Edwin McCain, Milli Vanilli, and Mark Chestnut, and many others.
Also in 2009, she cowrote the
United Kingdom's
United Kingdom
The United Kingdom of Great Britain and Northern IrelandIn the United Kingdom and Dependencies, other languages have been officially recognised as legitimate autochthonous languages under the European Charter for Regional or Minority Languages...
entry in the Eurovision Song Contest with
Andrew Lloyd Webber
Andrew Lloyd Webber
Andrew Lloyd Webber, Baron Lloyd-Webber is an English composer of musical theatre.Lloyd Webber has achieved great popular success in musical theatre. Several of his musicals have run for more than a decade both in the West End and on Broadway. He has composed 13 musicals, a song cycle, a set of...
the song "It's My Time". It was sung by
Jade Ewen
Jade Ewen
Jade Almarie Louise Ewen is an English singer, songwriter, actress and member of the Sugababes. Ewen began her singing career in a girl group named Trinity Stone signed to Sony BMG in 2005, but they disbanded in 2007 with no album released...
and achieved 5th place, the best for the UK since 2002.
In 2010 Warren joined forces with Avon as a celebrity judge for Avon Voices, Avon's first ever global online singing talent search for women and songwriting competition for men and women.
Diane Warren has been recognized six times ASCAP Songwriter of the Year and four times Billboard's Songwriter of the Year.
Academy Awards
ASCAP
Pop Songwriter of the Year (1990) -
Pop Songwriter of the Year (1991) -
Pop Songwriter of the Year (1993) -
Pop Songwriter of the Year (1998) - for "Because You Loved Me

Because You Loved Me

"Because You Loved Me" is a song from Céline Dion's album Falling into You, released as the first single on February 19, 1996 in North America and Japan. In other parts of the world it was released in May 1996 as the second single, after "Falling into You"....


" (Céline Dion

Celine Dion

Céline Marie Claudette Dion, , , is a Canadian singer. Born to a large family from Charlemagne, Quebec, Dion emerged as a teen star in the French-speaking world after her manager and future husband René Angélil mortgaged his home to finance her first record...


), "For You I Will

For You I Will (Monica song)

"For You I Will" is a pop ballad written by Diane Warren and performed by Monica. Her version was included on the soundtrack to the film Space Jam. In 1997, when released as a single, the song became a top 10 hit on the Billboard Hot 100 as well as Billboards R&B chart. It also experienced some...


" (Monica), "How Do I Live

How Do I Live

"How Do I Live" is the title of a song written by Diane Warren. It was originally recorded by LeAnn Rimes in 1997 and shortly afterward by Trisha Yearwood...


" (LeAnn Rimes

LeAnn Rimes

LeAnn Rimes is an American country/pop singer. She is known for her rich vocals and her rise to fame as an eight-year-old champion on the original Ed McMahon version of Star Search, followed by the release of the Patsy Cline-intended single "Blue" when Rimes was only age 13, resulting in her...


, Trisha Yearwood

Trisha Yearwood

Patricia Lynn Yearwood, professionally known as Trisha Yearwood , is an American country music artist. She is best known for her ballads about vulnerable young women from a female perspective that have been described by some music critics as "strong" and "confident."Trisha Yearwood signed with MCA...


), and "Un-Break My Heart

Un-Break My Heart

"Un-Break My Heart" is a song by American recording artist Toni Braxton from her second studio album, Secrets . Written by Diane Warren and produced by David Foster, the ballad was released as the album's second single...


" (Toni Braxton

Toni Braxton

Toni Michelle Braxton is an American R&B singer-songwriter, record producer, and actress. Braxton has won six Grammy Awards, seven American Music Awards, and five Billboard Music Awards and has sold over 60 million records worldwide...


)
Pop Songwriter of the Year (1999) - for "Because You Loved Me

Because You Loved Me

"Because You Loved Me" is a song from Céline Dion's album Falling into You, released as the first single on February 19, 1996 in North America and Japan. In other parts of the world it was released in May 1996 as the second single, after "Falling into You"....


" (Céline Dion

Celine Dion

Céline Marie Claudette Dion, , , is a Canadian singer. Born to a large family from Charlemagne, Quebec, Dion emerged as a teen star in the French-speaking world after her manager and future husband René Angélil mortgaged his home to finance her first record...


), "How Do I Live

How Do I Live

"How Do I Live" is the title of a song written by Diane Warren. It was originally recorded by LeAnn Rimes in 1997 and shortly afterward by Trisha Yearwood...


" (LeAnn Rimes

LeAnn Rimes

LeAnn Rimes is an American country/pop singer. She is known for her rich vocals and her rise to fame as an eight-year-old champion on the original Ed McMahon version of Star Search, followed by the release of the Patsy Cline-intended single "Blue" when Rimes was only age 13, resulting in her...


, Trisha Yearwood

Trisha Yearwood

Patricia Lynn Yearwood, professionally known as Trisha Yearwood , is an American country music artist. She is best known for her ballads about vulnerable young women from a female perspective that have been described by some music critics as "strong" and "confident."Trisha Yearwood signed with MCA...


), "I Don't Want to Miss a Thing

I Don't Want to Miss a Thing

"I Don't Want to Miss a Thing" is a song performed by American rock band Aerosmith for the 1998 film Armageddon. Written by Diane Warren, the song debuted at number one on the Billboard Hot 100 . The song stayed at number one for four weeks from September 5 to September 26, 1998...


" (Aerosmith

Aerosmith

Aerosmith is an American rock band, sometimes referred to as "The Bad Boys from Boston" and "America's Greatest Rock and Roll Band". Their style, which is rooted in blues-based hard rock, has come to also incorporate elements of pop, heavy metal, and rhythm and blues, and has inspired many...


), and "Un-Break My Heart

Un-Break My Heart

"Un-Break My Heart" is a song by American recording artist Toni Braxton from her second studio album, Secrets . Written by Diane Warren and produced by David Foster, the ballad was released as the album's second single...


" (Toni Braxton

Toni Braxton

Toni Michelle Braxton is an American R&B singer-songwriter, record producer, and actress. Braxton has won six Grammy Awards, seven American Music Awards, and five Billboard Music Awards and has sold over 60 million records worldwide...


)
Country Songwriter of the Year (2000) - for "I Don't Want to Miss a Thing" (Mark Chesnutt

Mark Chesnutt

Mark Nelson Chesnutt is an American country music singer. Chesnutt recorded and released his first album, Doing My Country Thing, in the late-1980s on private independent record label, Axbar Records, with the vinyl album version now a collector's item...


) and "I'll Still Love You More

I'll Still Love You More

"I'll Still Love You More" is a single by American country music artist Trisha Yearwood. Released in 1999, it was the fourth single from the album Where Your Road Leads. The song reached #10 on the Billboard Hot Country Singles & Tracks chart....


" (Trisha Yearwood

Trisha Yearwood

Patricia Lynn Yearwood, professionally known as Trisha Yearwood , is an American country music artist. She is best known for her ballads about vulnerable young women from a female perspective that have been described by some music critics as "strong" and "confident."Trisha Yearwood signed with MCA...


)
Broadcast Film Critics Association Awards
Golden Globe Awards
Grammy Awards
Satellite Awards
Other Awards and Honors
Palm Springs International Film Festival's (PSIFF) Frederick Loewe Music Award (2011)
Women in Film Crystal Award along with Lauren Shuler Donner

Lauren Shuler Donner

Lauren Shuler Donner is an American film producer who specializes in mainstream youth and family-oriented entertainment.-Early life and career:...


and Jennifer Lopez

Jennifer Lopez

Jennifer Lynn Lopez is an American actress, singer, record producer, dancer, television personality, and fashion designer. Lopez began her career as a dancer on the television comedy program In Living Color. Subsequently venturing into acting, she gained recognition in the 1995 action-thriller...


(1996)
Hollywood Film Festival Outstanding Achievement in Songwriting (2001)
Billboard Music Award Songwriter of Year (1997, 1998, 1999)
The Hollywood Reporter and Billboard's Inaugural Film & TV Music Career Achievement Award (2008)
Hollywood Walk of Fame Star (2001)
Songwriters Hall of Fame (2001)
External links