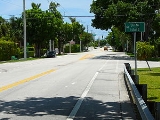 Di Lido Island, Miami Beach, Florida
Di Lido Island
is an
artificial island
Artificial island
An artificial island or man-made island is an island or archipelago that has been constructed by people rather than formed by natural means...
in the city of
Miami Beach
Miami Beach, Florida
Miami Beach is a coastal resort city in Miami-Dade County, Florida, United States, incorporated on March 26, 1915. The municipality is located on a barrier island between the Atlantic Ocean and Biscayne Bay, the latter which separates the Beach from Miami city proper...
,
Florida
Florida
Florida is a state in the southeastern United States, located on the nation's Atlantic and Gulf coasts. It is bordered to the west by the Gulf of Mexico, to the north by Alabama and Georgia and to the east by the Atlantic Ocean. With a population of 18,801,310 as measured by the 2010 census, it...
,
United States
United States
The United States of America is a federal constitutional republic comprising fifty states and a federal district...
. It is the third island from the east of the
Venetian Islands
Venetian Islands
The Venetian Islands are a chain of artificial islands in Biscayne Bay in the cities of Miami and Miami Beach, Florida. The islands are, from west to east: Biscayne Island , San Marco Island , San Marino Island , Di Lido Island , Rivo Alto Island , and Belle Isle...
, a chain of artificial islands in
Biscayne Bay
Biscayne Bay
Biscayne Bay is a lagoon that is approximately 35 miles long and up to 8 miles wide located on the Atlantic coast of South Florida, United States. It is usually divided for purposes of discussion and analysis into three parts: North Bay, Central Bay, and South Bay. Its area is...
in the cities of Miami and Miami Beach. It is between San Marino Island and Rivo Alto Island. It is home to residential neighborhoods and a portion of the
Venetian Causeway
Venetian Causeway
The Venetian Causeway crosses Biscayne Bay between Miami on the mainland and Miami Beach on a barrier island in south Florida. The man-made Venetian Islands and non-bridge portions of the causeway were created by materials which came from the dredging of the bay. The Venetian Causeway follows the...
. The unfinished artificial island
Isola di Lolando
Isola di Lolando
A Miami real estate bubble burst in the mid 1920s as a land boom fueled by outside speculators was stricken by economic realities and unexpected hurricanes. One failed development project left its remains scarring north Biscayne Bay near Miami Beach, Florida...
from the
Florida land boom of the 1920s
Florida land boom of the 1920s
The Florida land boom of the 1920s was Florida's first real estate bubble, which burst in 1925, leaving behind entire new cities and the remains of failed development projects such as Aladdin City in south Miami-Dade County and Isola di Lolando in north Biscayne Bay...
is located near the north tip of Di Lido Island.